Wishing all my family members, relatives, dear friends and everyone a Merry & Blessed Christmas and a Very Happy New Year 2016 - This post will be up until after the New Year
Sunday, January 10, 2016
It is the most wonderful time of the year. There is never a feeling like that, any other time of the year. That is a spiritual experience to celebrate the birth of Our Lord and Saviour, Jesus Christ.

posted by D.Swami Gwekanandam @ 7:00 PM


Turkey Did Not Act on Its Own. Was Washington Complicit in Downing Russia's Aircraft?
Thursday, November 26, 2015
Both countries are NATO allies, united against Assad, wanting him toppled, actively complicit in supporting and using ISIS, as well as other terrorist groups as proxy foot soldiers in the war Obama launched in March 2011.
It's inconceivable Turkey acted on its own, independent of US-dominated NATO. Its action is a major geopolitical incident – a premeditated act of war against Russia in Syrian airspace.
Ankara claiming the aircraft entered Turkish airspace, ignoring multiple warnings, has the distinct aroma of a bald-faced lied to cover up a hostile act.
Erdogan's recklessness ruptured Turkish/Russian relations, at least for the time being. Sergey Lavrov cancelled his scheduled Wednesday trip to Istanbul, saying "(a) decision has been made to cancel the meeting at the level of Russian and Turkish foreign ministers…"
He urged Russian citizens avoid visiting Turkey, leaving themselves vulnerable to terrorism, adding: "It's necessary to emphasize that the terror threats with their roots in Turkey have been aggravated. And that's true even if we don't take into account what happened today.
We estimate the threats to be no less than in Egypt." Russia's state tourism agency Rostourism recommended suspending tour package sales to Turkey. Moscow-based Natalie tours already did so. Putin minced no words blasting Erdogan, saying "(t)his incident stands out against the usual fight against terrorism."
"Our troops are fighting heroically against terrorists, risking their lives. But the loss we suffered today came from a stab in the back delivered by accomplices of the terrorists." He warned of grave consequence for Russian/Turkish relations.
Read it all here........
posted by D.Swami Gwekanandam @ 1:27 PM


The truth about refugees: WATCH what a thousand Somalis have done to one tiny Tennessee town
As usual, liberals can't or won't look at the basic statistics that prove their sudden infatuation with "refugees" is another unworkable "social justice" fantasy.
They refuse to acknowledge unpleasant facts about how many refugees there really are, and how assimilated (and even dangerous) some of the ones who are already here actually are. Of course not. Politicians only care about looking like they care. And we'll be stuck cleaning up the mess they're making, as usual.
The media won't tell you all the facts about the migrant crisis. Only The Rebel gives you TheTruthAboutRefugees.com READ Gavin McInnes' "gut-punchingly hilarious" memoir,
The Death of Cool. Trudeau's Liberals MUST halt plans to bring in 25,000 Syrian refugees until they can guarantee the safety of the Canadian people.
SIGN THE PETITION at RefugeePause.ca
The Rebel Media
posted by D.Swami Gwekanandam @ 1:10 PM


The Dreadful Lessons of ISIS's Paris Massacre
Wednesday, November 25, 2015
Jihad Watch : In this special edition of The Glazov Gang, I was joined by Stephen Coughlin, the co-founder of UnconstrainedAnalytics.org and the author of the new book, Catastrophic Failure.
He came on the show to discuss The Dreadful Lessons of ISIS's Paris Massacre, shedding troubling light on Jihadists' dire warning to America.
posted by D.Swami Gwekanandam @ 9:23 PM


Why Putin is the most powerful man in the world
posted by D.Swami Gwekanandam @ 6:26 PM


Turks shoot down Russian jet for being near the border of its airspace with Syria. But seem not to think anything of its constant violations of indisputably Greek airspace
Turk F 16
A formation of Turkish fighter jets violated Greek airspace a total of 20 times on Wednesday before being chased off by Greek aircraft, Kathimerini English reports.
A total of six Turkish fighter jets flying in formation carried out repeated violations of Greek airspace, according to the newspaper, which is one of the most respected in Greece.
The reported violations took place in Greek airspace over the north, central, and southern Aegean Sea.
Citing Greek defense officials, Kathimerini reports that two of the Turkish jets were carrying armaments and that a tense close-quarters confrontation occurred between the neighboring countries' jets. Airspace violations between Greece and Turkey are a common issue between the two countries, especially over the Aegean Sea.
The island-filled stretch of water separating Turkey and Greece contains maritime boundaries that are a persistent source of disagreement between the two countries. In the first month of 2014 alone, Turkish aircraft allegedly violated Greek airspace 1,017 times, Gurcan reports.
Read it all here..................
posted by D.Swami Gwekanandam @ 6:17 PM


Turkish Support for Terrorism
Turkey was chastised for allowing Hamas leader Saleh Al-Arouri to oversee the group's terrorist network in the West Bank from the area.
It says that Turkey is giving safe haven to Hamas operatives and Hamas-linked companies, charities and banks. Hamas has an entire infrastructure set up in Turkey.
This network oversaw the murder of three Israeli teenagers this year, attempted to attack a soccer stadium in Jerusalem and tried to overthrow the Palestinian Authority in the West Bank. The Palestinian leadership confirmed Israel's accusation that Hamas is using a headquarters in Turkey.
The members of Congress also mentioned the presence of a Hamas-linked charity named the Humanitarian Relief Foundation (IHH) in Istanbul. Clarion Project reported this foundation's close ties to the AK Islamist party ruling Turkey and how it openly registered human shields for the Hamas-run Gaza Strip during Hamas' latest round of attacks on Israel.
The Clarion Project has repeatedly documented Turkey's support for Islamist terrorism and extremism. Only a few weeks ago, the Islamic State attacked the Kurds in Syria from within Turkish territory. President Erdogan often repeats the extremism and conspiracy theories of his Muslim Brotherhood allies.
Read it all here.............
posted by D.Swami Gwekanandam @ 5:19 PM


Russian Jet Shoot Down: What They're Not Telling You
Turkey shot down the Russian jet because it is butt-hurt that Russia has been obliterating ISIS for the past two months.

posted by D.Swami Gwekanandam @ 4:59 PM


Russia could be considering a retaliatory shoot down of a Turkish warplane in response to today's downing of an Su-24 fighter jet
With Russia warning Turkey that "inevitable consequences" will ensue as a result of the incident, the Chinese newspaper asserts that the situation, "Could be one of the most critical moments since the end of the Cold War."
As Reuters reported earlier this year, the Global Times is an, "Influential nationalist tabloid owned by the ruling Communist Party's official newspaper the People's Daily," therefore reflects the views of top Chinese government officials.
"Ankara must be well aware of what it means to shoot down a Russian warplane," states the editorial. "Next it will be careful enough not to give Russia a chance to down one of its warplanes in retaliation. Moscow probably has to cross the Syrian-Turkish border to implement retaliation, which however risks escalating military confrontation."
"If Russia strikes down a Turkish warplane in Turkish airspace, or strikes a Turkish air base, it will touch NATO's nerve. If NATO takes no action, its pledge to protect smaller alliance members will be discredited. However, if NATO adopts substantial action toward Russia, Europe will confront an unprecedented turbulent situation not seen since World War II."
Read it all here...............
posted by D.Swami Gwekanandam @ 4:56 PM


One Jet Closer to a Wider Confrontation
Turkey's downing of a Russian fighter jet on Tuesday is just the kind of volatile incident that has been feared since Moscow's military intervention added new uncertainty to the already complicated Syrian civil war.
The attack adds to tensions between Ankara and Moscow, which support different factions in Syria, and threatens to worsen relations between Russia and Turkey's NATO allies, which have been going downhill since Russia invaded Ukraine.
President Vladimir Putin of Russia said the downing would have "serious consequences for Russian-Turkish relations." He did not spell out what he meant, but the situation cannot be allowed to escalate. The only winner in a confrontation between Russia and the West is the Islamic State, the terrorist organization that controls large parts of Syria and Iraq.
A video shows the Russian jet being hit before crashing in a mountainous region near the Turkish-Syrian border. Mr. Putin announced that the Russian plane had been hit by an air-to-air missile launched from a Turkish F-16. A Turkish official told The Times that the Russian plane was "repeatedly warned" it was 15 kilometers or less from the Turkish border.
Read it all here...........
posted by D.Swami Gwekanandam @ 4:42 PM


Video of Russian Jet Downing Surfaces, Putin Calls Turkey "Accomplice of Terrorists", Warns of "Consequences"
Anonymous : In the wake of the recent downing of a Russian jet, Russian president Vladimir Putin has issued some harsh words:
The loss today is a stab in the back, carried out by the accomplices of terrorists. I can't describe it in any other way. Our aircraft was downed over the territory of Syria, using air-to-air missile from a Turkish F-16. It fell on the Syrian territory 4km from Turkey. Neither our pilots nor our jet threatened the territory of Turkey.


This is obvious. They are fighting terrorists in the northern areas around Latakia, where militants are located, mainly people who originated in Russia, and they were pursuing their direct duty, to make sure these people do not return to Russia. These are people who are clearly international terrorists.
Taking into account that we signed an agreement on deconflicting with the US, and as we know Turkey was among the ones that has joined the US coalition. Since Isis has such huge resources of hundreds of millions and billions of dollars coming from illicit oil sales, and they are protected by the armed forces of other states, then it's clear why they are so brazen, why they are killing people, why they are carrying out terrorist attacks throughout the world including in the heart of Europe.
We will analyse everything, and today's tragic event will have significant consequences, including for Russia-Turkish relations. We have always treated Turkey as a friendly state. I don't know who was interested in what happened today, certainly not us. And instead of immediately getting in contact with us, as far as we know, the Turkish side immediately turned to their partners from Nato to discuss this incident, as if we shot down their plane and not they ours.
Another provocation against Russia would be the unconfirmed reports that both pilots of the jet were executed, after ejecting from a jet brought down by Turkey. If this was true, Turkey has aided a terror group in murdering a Russian citizen. To grasp the implications, try to imagine what the US would do if it was an American jet that was downed and ISIS executed its pilot.
Read it all here...........
posted by D.Swami Gwekanandam @ 4:28 PM


Turkey threatens Russia over bid to OBLITERATE sick Islamic State terrorists
RUSSIA and Turkey are in deadlock after the latter threatened Moscow with "serious consequences" if it continues its bomb assault on Syria.

Officials in the capital Ankara warned Russia to "immediately end its operation" after war planes hit Syrian ground "very close" to the Turkish border. Turkey sees the Turkmen population that inhabits villages near the border as natural allies in the struggle against President Assad's brutal regime.
Ahmet Davutoglu, the Turkish prime minister, said that "if civilians fleeing massacre and cluster bombs head to Turkey, and a new refugee influx emerges, everyone concerned will be held accountable." The Russian ambassador Andrey Karlov was called in for crisis talks as tensions between the two sides escalate over their different of opinion on the Syrian conflict.
The Kremlin insists its air strikes are only targeting the abhorrent Islamic State jihadis, but Turkey and its allies claim Putin's forces are mainly hitting anti-Assad rebels. A staggering 2.2 million refugees are already holed up in Turkey after fleeing the barbarous cvil war in Syria. This comes after Russia blitzed ISIS extremists in Syria, wiping out 600 militants with a single airstrike.
Read it all here...........
posted by D.Swami Gwekanandam @ 4:16 PM


'Turkey = Terrorism': Russians Protest Jet Attack on Social Media
Russian President Vladimir Putin called Turkey's downing of Su-24 jet a "stab in the back," which caused the phrase to trend on Twitter in Russia.
Russian users have begun tagging their posts with #УдарВСпину ("stab in the back") as they encourage people to boycott Turkey and accuse the government of President Recep Tayyip Erdogan of working with the Islamic State (ISIS/ISIL) in Syria.
Kinda makes ya wonder if Obama was conspiring with Turkey to lead us into war against Russia during his trip there last week... That would certainly serve the Islamofascist interest, and there is no bigger fan than our Commander in Chief.
I can only hope one day we westerners ally ourselves firmly with our Russian Brothers and Sisters. For to long western establishment have conditioned all of us to hate Russians. Enough! They are clearly supposed to be our ally! Well Done Russian People!
Read it all here.............
posted by D.Swami Gwekanandam @ 4:09 PM


Is Vladimir Putin right to label Turkey 'accomplices of terrorists'? He definitely is right! Mr. Turkey, get ready to introduce your arse to Mr. Putin's steel-toed army boot.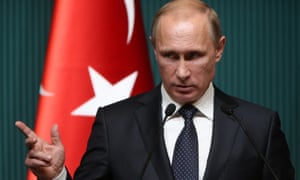 Since the earliest months of the Syrian war, Turkey has had more direct involvement and more at stake than any of the regional states lined up against Bashar al-Assad.
Turkish borders have been the primary thoroughfare for fighters of all kinds to enter Syria. Its military bases have been used to distribute weapons and to train rebel fighters. And its frontier towns and villages have taken in almost one million refugees.
Turkey's international airports have also been busy. Many, if not most, of the estimated 15,000-20,000 foreign fighters to have joined Islamic State (Isis) have first flown into Istanbul or Adana, or arrived by ferry along its Mediterranean coast.
The influx has offered fertile ground to allies of Assad who, well before a Turkish jet shot down a Russian fighter on Tuesday, had enabled, or even supported Isis. Vladimir Putin's reference to Turkey as "accomplices of terrorists" is likely to resonate even among some of Ankara's backers.
Read it all here..............
posted by D.Swami Gwekanandam @ 3:59 PM


Who Are the Turkmens of Syria?
Turkmens or Turkomans are a Turkic people who live in significant numbers in many countries in Central Asia and the Middle East, including Afghanistan, Iran and Iraq, and are the dominant group in Turkmenistan.
They have a culture and language related to Turkish; their name is said to derive from words meaning "Turk-like." In the context of Syria, though, the term is used somewhat differently, to refer mainly to people of Turkish heritage whose families migrated to Syria from Anatolia during the centuries of the Ottoman period — and thus would be closer kin to the Turks of Turkey than to the Turkmens of Central Asia.
Q. Where in Syria do they live? A. Turkmens are concentrated in the northwest and along the Turkish border, where they comprise the majority in a number of villages and towns. They tend to be numerous in the same provinces where the Alawite minority, from which the ruling family of President Bashar al-Assad emerged, is strongest.
Q. How many are there? Continue reading the main story A. No reliable figures are available, and estimates on the number of Turkmens in Syria and nearby countries vary widely, from the hundreds of thousands up to 3 million or more. The governments of Mr. Assad, and his father, Hafez al-Assad, banned them from writing or publishing in Turkish.
Read it all here................
posted by D.Swami Gwekanandam @ 3:53 PM


Turkey shot down Russian jet in Syrian airspace: Source
The United States believes that the Russian jet shot down by Turkey on Tuesday was hit inside Syrian airspace after a brief incursion into Turkish airspace, a U.S. official told Reuters, speaking on condition of anonymity.
The official said that assessment was based on detection of the heat signature of the jet. The information emerged as the White House said that U.S. President Barack Obama and Turkish President Tayyip Erdogan spoke by phone on Tuesday about the need to de-escalate tensions with Russia.
Obama expressed "U.S. and NATO support for Turkey's right to defend its sovereignty," the White House said in a statement. "The leaders agreed on the importance of de-escalating the situation and pursuing arrangements to ensure that such incidents do not happen again," the statement said.
Read it all here...............
posted by D.Swami Gwekanandam @ 3:43 PM


Russian Su-24 Jet Attack: Moscow To Deploy Moskva Missile Cruiser Off Syria Coast In Response To Turkey's Actions
Russia will deploy a missile cruiser near the Syrian coastal province of Latakia in response to Turkey's downing of the Russian war jet Sukhoi Su-24M, the general staff of the Russian Armed Forces said Tuesday.
Lt. Gen. Sergei Rudskoi, a spokesman for the general staff, warned that Russia will also destroy any target that might pose danger to its Hemeimeem air base in Latakia. Under new measures for the security of the air base, Russia will also send fighter jets for Moscow's air campaign against the Islamic State group in Syria, where it has previously carried out airstrikes.




Russia's response came hours after Turkey shot down the Su-24M jet on Tuesday, alleging that Moscow ignored repeated warnings and violated Turkish airspace. The incident killed at least one of the two pilots.
"[The] cruiser Moskva, equipped with Fort air defense system, similar to S-300, will assume position in the coastal region of Latakia. … Contacts with Turkey on military lines will be discontinued," Rudskoi said, in a statement, according to Sputnik News.
Read it all here.............
posted by D.Swami Gwekanandam @ 3:37 PM


We Must Fight - President Reagan
posted by D.Swami Gwekanandam @ 3:15 PM


An arrogant prick spews forth excreta again......Okay to use gov't machinery for campaigns - Remember this from way back, Wednesday, April 10, 2013
From Malaysiakini Giudice : I am so glad Rais made the statement.
It will only serve to nudge the undecided to vote out BN. No one in their right mind would vote for someone who not only abuses power but attempts to justify it. Similarly, no one would want to vote for idiots to lead the country.
This is what I have been saying all along. Information, Communication and Culture Minister Rais Yatim today defended BN's actions of using the Information Department's machinery for campaigning purposes. He said that there is nothing wrong with the usage of government's machinery because BN is still considered the caretaker government from now until the nomination day. That is the quality of Ministers, Malaysia has. Looking down on poor reporters from a lofty height. He forgets that it is the people who put him there.
Typical arrogance of our Ministers. Well, he will have a mighty fall, come the next elections. Rais, you want to censor this with your crappy internet filter? That was the purpose of your suggestion on censoring the internet. So that people do not see your PMS behaviour and comments of the rakyat on your arrogance. A dinosaur, in this time and age.




Well, we know your standards, pretty lowdown, trying to humiliate and mock a poor reporter. So what if he does not speak the language? You and your whole horde of good for nothing politicians were and still responsible for this sorry state of affairs on language proficiency.
Sarawak CM gives Rais Yatim an English lesson. Rais, Point 2 of the 18-Point/20-Point Malaysia Agreement says English shall be the official language of Borneo (Sarawak and Sabah) for all purposes, state or federal, without limitation of time.
Do you understand English? Many of the points in the agreement have been dishonoured by you lot. Your asking Sarawak to reconsider the decision to use English means you are perpetuating the scant regard your federal government has been having for the said agreement.
While we are on dishonouring agreements, Point 15 is another one of those you lot have dishonoured. It says that the educational system of Borneo (Sarawak and Sabah) existing before the formation of Malaysia shall be maintained and for that reason education should be under state control. You have taken over control of the education in Borneo and royally buggered it up.
Read it all here.............
posted by D.Swami Gwekanandam @ 3:08 PM


Putin will respond: Russians feel betrayed as Turkey stabs them in the back
Russia deploys missile cruiser off Syria's coast, to destroy any target that threatens
There is still disputed territory between Turkey and Syria. I have a gut feeling that Turkey has encroached into Syria to create a buffer zone, claiming that it's her airspace.
I believe that the Russians were in Syria when shot down. They would have deemed to have been in "Turkish Airspace' because Turkey has already encroached into Syria and claiming Syrian territory as it's own. After all the Turks support the terrorist Turkmen. Turkey has violated Greek airspace more than a thousand time to date. So is that okay? What about coalition aircraft that fly over Turkey?
Vladimir Putin, who has a reputation for speaking in measured tones and not being prone to rash outbursts, has never seemed as furious as he was following Turkey's shooting down of a Russian military jet over Syria.
Make no mistake, Russians feel betrayed by Turkey. ournalists on the Russia beat spend an inordinate amount of time watching, analyzing and listening to Vladimir Putin. He has been the central figure in Russian politics for 15 years now, 11 of them as President.
"Playing chess while others play checkers," as many observers frequently note. I have never seen Putin as furious as he was during Tuesday's Sochi briefing. At least not since his brief 1999 stint as Prime Minister, when he promised to "waste terrorists in the outhouse" after a wave of Islamist attacks inside Russia.
The Russian president clearly feels that Recep Tayyip Erdogan has personally betrayed him. "Today's loss is a result of a stab in the back delivered by accomplices of terrorists. There is no other way I can qualify what happened today," he stated. It's not only Putin who feels double-crossed. For hours, #УдарВСпину, the Russian approximation for 'stab in the back' trended on Twitter. Russian people have long regarded Turkey as a friendly country.
Millions of them holiday there and there is barely a large Russian city without a Turkish migrant worker presence, with over 20,000 in Rostov alone. That goodwill probably died on Tuesday.
Read it all here..................
posted by D.Swami Gwekanandam @ 2:45 PM


From Cinder to Cinder (With the Best Intentions)
A (short film) documentary criticism on the notions of islamophobia and the cultural presentation of Islam as the religion of peace.
From Vlad Tepes
posted by D.Swami Gwekanandam @ 10:15 AM


Putin warns of 'serious consequences'
Turkey shot down a Russian warplane near the Syrian border on Tuesday, saying the jet had violated its air space, in one of the most serious publicly acknowledged clashes between a NATO member country and Russia for half a century.
Russian President Vladimir Putin said the plane had been attacked when it was 1 km (0.62 mile) inside Syria and warned of "serious consequences" for what he termed a stab in the back administered by "the accomplices of terrorists".
"We will never tolerate such crimes like the one committed today," Putin said, as Russian and Turkish shares fell on fears of an escalation between the former Cold War enemies. In a letter to the U.N. Security Council, Turkey said it had shot down the jet while in Turkish air space. Along with a second plane, the aircraft had flown more than a mile into Turkey for 17 seconds, despite being warned 10 times in five minutes while approaching to change direction, the letter said.
"Nobody should doubt that we made our best efforts to avoid this latest incident. But everyone should respect the right of Turkey to defend its borders," Turkish President Tayyip Erdogan said in a speech in Ankara.
Read it all here...............
posted by D.Swami Gwekanandam @ 10:01 AM


Krauthammer's Take: Turkey Also Shot Down Any Chance of a U.S.-Russia Alliance
In shooting down a Russian fighter jet that violated its airspace, Turkey also greatly diminished any chance the U.S. will accept Russian into its anti-ISIS coalition, Charles Krauthammer argued tonight.
Speaking of French President Francois Hollande's visit today to the White House, Krauthammer explained, "The reason he's here, he's trying to persuade the United States to allow Russia into the so-called 65-member coalition that Obama has supposedly put together."
"The reason why we are correctly refusing that — and I give Obama credit for this — is that Putin has no interest in a war with ISIS," Krauthammer said on Tuesday's Special Report on Fox News. "His only interest is a war against the opposition to defend Assad." Krauthammer said Turkey is drawing its own red line:
Read it all here...................
posted by D.Swami Gwekanandam @ 9:54 AM


Three Questions About the Downed Russian Jet
New Yorker : On Tuesday, a Turkish F-16 fighter jet, flying near Turkey's border with Syria, shot down a Russian Su-24 military jet.
It is not clear whether the Russian plane, which was presumably deployed as part of Russia's operations in support of the Assad regime, had entered Turkish territory. Turkey said that it did, and that it has radar maps and radio transmissions to prove it. Russian denies it. (The incursion, according to Der Spiegel, may have lasted only a few seconds.)
The Su-24 ultimately fell to the ground well inside the Syrian border. As it did, the Russian crew ejected from the plane, and there are reports that, as two pilots parachuted from hundreds of feet in the air, Syrian rebels shot at them, or at a Russian helicopter that had come to rescue the crew, or at both, possibly with TOW missiles. Pictures have circulated that purport to be of a dead or injured Russian pilot. According to the Times, the Russian Defense Ministry has said that one pilot and a Russian marine who had been on the rescue helicopter were killed on the ground.
What actually happened—what the Russians were doing, why Turkey chose to take this action, who the rebels might be, and where their weapons may have come from—is all still to be sorted out. For the moment, what substitutes for certainty is the anger of Vladimir Putin, who said that "the loss we suffered today came from a stab in the back delivered by accomplices of the terrorists." In addition, three larger questions need answers:Do we understand enough about the cast of characters in this crisis? There is a profound uncertainty about who is who in Syria—who is whose friend or enemy, who can be counted on to pick which battles in a multi-front war, and even the basic identity of certain actors—and the shooting down of the plane underscores how dangerous that confusion can be.
Read it all here..................
posted by D.Swami Gwekanandam @ 8:13 AM


Muslim feminist "diversity officer" in the UK sends rape threat to Pamela Geller
"I set up the Women's Forum and the Survivor's Support Network for students who had experienced sexual violence and abuse," wrote Bahar Mustafa.
Then she wrote this to Pamela Geller: "You deserve to be raped in every hole by hordes of muslims, slapping and choking you, spitting in your mouth and pissing in ya face."
She apparently is still a "diversity officer" at Goldsmiths University in the U.K. — and is yet another sign of Britain's capitulation to Islamic supremacism, and imminent demise as a free society.
"Muslim Feminist Diversity Officer Sends Rape Threat to Pamela Geller," by Daniel Greenfield, FrontPage, November 24, 2015 : We wrote about Bahar Mustafa before when the "diversity officer" from UK's Goldsmiths tweeted #KillAllWhiteMen.
A student union officer who banned white people and men from an event promoting equality has claimed she "cannot be racist" because she is an ethnic minority woman. Goldsmiths University's student union welfare and diversity officer Bahar Mustafa sparked a backlash when she told white people and men they should not attend an event on "diversifying the curriculum". Then she got into trouble for tweeting #KillAllWhiteMen, but she wasn't going down without a fight.
Read it all here........................
posted by D.Swami Gwekanandam @ 8:04 AM


Video: U.S.-backed Syrian "moderates" scream "Allahu akbar" over body of downed Russian pilot
This source says that the jihadis in the video are from the U.S.-backed Free Syrian Army. You know, the "moderates."
"Sick video emerges of Syrian rebels chanting 'Allahu Akbar' over corpse of Russian pilot," by Rebecca Perring, Express, November 24, 2015 : A SHOCKING video has emerged online which allegedly shows a Syrian group as they gleefully chant "Allahu Akabar" [sic] over the corpse of the Russian pilot killed when Turkish warplanes shot down his plane.


Filmed by rebels in Syria's Turkman Mountains, the horrifying video shows dozens of men as the discover the bloodied and bruised body of one of the pilots, dressed in Russian military fatigues.
The Russian Sukhoi Su-24 was downed by F16 Fighting Falcon jets belonging to Turkey, after it was warned 10 times in five minutes to leave Turkish airspace. The sickening footage shows armed Syria-Turkmen rebel soldiers as they cheer and shout "Allahu Akbar" – "God is great" as the man's lifeless body lies slumped on the ground.
Read it all here..................
posted by D.Swami Gwekanandam @ 8:01 AM


Turkey backstabbed Russia by downing the Russian warplane and acted as accomplices of the terrorists, Russian President Vladimir Putin said.
Tuesday, November 24, 2015
The plane was hit by a Turkish warplane as it was travelling 1 km away from the Turkish border, Putin said.
The plane posed no threat to Turkish national security, he stressed. Putin said the plane was targeting terrorist targets in the Latakia province of Syria, many of whom came from Russia. Russia noticed of the flow of oil from Syrian territory under the control of terrorists to Turkey, Putin said.
Apparently, IS now not only receives revenue from the smuggling of oil, but also has the protection of a nation's military, Putin said. This may explain why the terrorist group is so bold in taking acts of terrorism across the world, he added. The incident will have grave consequences for Russia's relations with Turkey, Putin warned.
The fact that Turkey did not try to contact Russia in the wake of the incident and rushed to call a NATO meeting instead is worrisome, Putin said. It appears that Turkey want NATO to serve the interests of IS, he added. Putin said Russia respects the regional interests of other nations, but warned the atrocity committed by Turkey would not go without an answer.
Read it all here...................
posted by D.Swami Gwekanandam @ 9:27 PM


The Latest: Putin Blasts Turkey for Downing Russian Warplane
Russian President Vladimir Putin has called Turkey's decision to down a Russian warplane near the Syria border a "stab in the back."
Speaking at a meeting with Jordanian King Abdullah II, Putin on Tuesday accepted his condolences on the death of a Russian pilot who was reportedly captured and dead. Putin said the Russian SU-24 jet was shot by a missile from a Turkish jet over Syria about 1 kilometer (just over a half-mile) away from the Turkish border, which he described as a "stab in the back by the terrorists' accomplices."
Putin warned that the incident would have "significant consequences" for its relations with Turkey and criticized Ankara for turning to NATO to discuss the incident instead of first explaining to Russia what happened.
Read it all here..........
posted by D.Swami Gwekanandam @ 9:24 PM


It's No-Longer Just Idle Rhetoric – CAIR Really IS Aiding ISIS Terrorists in Attempts To Circumvent Anti-Terrorism Measures
YES C.A.I.R. really does hate you and will help Islamic terrorists to KILL you.
The above video and news story is from November 2013. This next news story is from TODAY!


A man, who just two years ago was the poster boy for the far-Left media's attacks against the U.S. government's no-fly list for "unfairly" targeting Muslims, finds himself and several family members sitting in a Turkish prison — arrested earlier this month near the Turkey-Syria border as members of an ISIS cell.
Continue reading to Blazing Cat Fur→
posted by D.Swami Gwekanandam @ 7:35 PM


Two Turkish F-16s Down A Russian Sukhoi Su-24 Bomber – Both Russian Aircrew Eject – Two "good 'chutes" Confirmed
Prayers for the crew of the Sukhoi-24 crew that they ejected safely and are returned to their unit promptly and in good health. Hopefully the Turks get their just desserts.
This is what I think I know judging by various reports: A Russian Sukhoi-24 entered Turkish airspace (now disputed by Russian) after attacking position(s) in Northern Syria.
The two Turkish F-16 pilots radioed to the Russian Sukhoi-24 aircraft that they were in Turkish airspace and to depart immediately. These warnings were not responded to by the Russian aircraft. The Russian aircraft was illuminated by Turkish Radar (which SHOULD have gotten their immediate attention) and the Russian SU-24 did NOT change its heading.
One of the Turkish F-16s fired (what I assume to be) a heat seeking sidewinder that achieved a direct hit and downed the Russian aircrew. It APPEARS that the Russian aircrew did successfully eject their stricken aircraft. The Russian aircrew has NOT YET been recovered by Turkish rescue aircraft. I will update as more reliable info follows.
HT : Blazing Cat Fur
posted by D.Swami Gwekanandam @ 7:13 PM


ARCHIVES
Previous Post
Links
My Links
Nuffnang
Test
Military Related Links
Q&A Battle of Mogadishu
Black Hawk Down
Ranger Awang Rawang -
George Cross
Combat Art
Malaysian Military
Military Dictionary
Infantry Magazine
4th Inf Div Mech
Okinawa Marine Page
Stabilisation Force
Quadrant Magazine
History Malaya
The War Against,
Indonesia
Lest We forget
Malayan Emergency
Collection
Australian Army News
Wars of Vietnam
RAAF School In M'sia
Brits In S'pore and Malaya
S'pore-Malaysia Relations
Allied Participation In
The Vietnam War-,
Malaysia Included
Short Military Fiction
Singapore
Aussies At War
Combat In The Jungle
History Of The
British Army
Remembering
The Gurkhas
In Malaya
Royal Navy
Combat Tracker Team
Sixties Timeline
Institue of Defence and
Strategic Studies
Singapore Window
Singapore Armed Forces
Website
Panzer Divisions WW2
Basics Of Warfare
Violence In The Congo
Malaysia & United Nations
West Point
Military Academy
RMA Sandhurst
OCS Portsea
RMC Duntroon
NZ Forces
Military Colleges
Indonesian Military
& Democracy
Indonesia At
The Crossroads
World War 1 Document
Archive
Explore World War 1
Explore World War 2
World War 2 Net
World War 2 In Europe
Book References-
Insurgency Malaya
Malayan Emergency
Collection
Lessons From Malaya
Malaya,1948:Britain's
"Asian Cold War"
NZ Forces In Borneo
Malayan Emergency-
Australian Pespective
Malaya, My Far East
Slim School
Cameron Highlands
The Undeclared War
(Indonesian Confrontation)
-Book Review
The Queen's Gurkha
Signals
During
Confrontation
Brief History 4th RAR
In Malaya & Borneo
Aussies At War
Against Indonesia
Conflict and Confrontation
in SEA,
1961-1965,Britain,
US and the creation of Malaysia
D-Day(Operation
Overlord)
OMAHA Beachhead
-Historical
Division War
Department
Vietnam Resources
For The Historian
The Royal Irish Rangers
Queen's York Rangers
Early Ranger History
75th Ranger Regiment
Roots of Honor
-Histories
of the 14th U.S. Infantry
US Army Homepage
Under fire images
from Vietnam
Vietnam,
Death & Home
Photos, Articles,
and Research
on the European
Theater
in World War II
Complete Articles
On Middle East Conflict
The Israeli War
Of Independence
IDF Israel
Middle East And
Jewish Studies
The Quest For Peace
In The Middle East
US Coast Guard History
Memories Of Combat
Women In Combat
Korean War
Combat Photos
Photographing
Under Fire
Under Fire
US Army
Public Affairs
Military Equipment
Guide
The History Net
Canon, Machine Guns
And Ammunition
HK Assault rifles
AK Assault Rifle
Homepage
Modern Firearms
Main Battle Tanks
Former USSR
M1A1 / M1A2 Abrams Main
Battle Tank
, USA
Main Battle Tank:
Challenger 2
Leopard 2A6
Leclerc Main
Battle Tank
Israeli Main
Battle Tank
Swedish Armor
Infantry Fighting
Vehicle-Bradley
Italian IFV
French IFV
British IFV
Definition IFV
Scandinavian Armor
For Adventure
Training
Contact

My Land
Infantry
Weapons

Google News
World
News From Israel
Skull

Soldier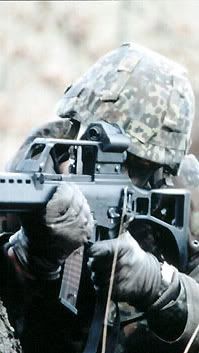 Skull

Warriors

Managers
of
Death &
Destruction

Bloody Minded

Queen of the
Infantry
Follow Me!
Brave Men
Powered by