Fighting Seventh
Profile
Miscellaneous
No Atheists
In A Foxhole
Rudyard Kipling" "When you're left wounded on
Afganistan's plains and

the women come out to cut up what remains,
Just roll to your rifle

and blow out your brains,
And go to your God like a soldier"

General Douglas MacArthur" "We are not retreating. We are advancing in another direction."

"It is fatal to enter any war without the will to win it."
"Old soldiers never die; they just fade away.
"The soldier, above all other people, prays for peace,
for he must suffer and be the deepest wounds and scars of war."

"May God have mercy upon my enemies, because I won't ."
"The object of war is not to die for your country but to make the other bastard die for his.

"Nobody ever defended, there is only attack and attack and attack some more.
"It is foolish and wrong to mourn the men who died.
Rather we should thank God that such men lived.

The Soldier stood and faced God
Which must always come to pass
He hoped his shoes were shining
Just as bright as his brass
"Step forward you Soldier,
How shall I deal with you?

Have you always turned the other cheek?
To My Church have you been true?"
"No, Lord, I guess I ain't
Because those of us who carry guns
Can't always be a saint."

I've had to work on Sundays
And at times my talk was tough,
And sometimes I've been violent,
Because the world is awfully rough.
But, I never took a penny
That wasn't mine to keep.
Though I worked a lot of overtime
When the bills got just too steep,

The Soldier squared his shoulders and said
And I never passed a cry for help
Though at times I shook with fear,
And sometimes, God forgive me,
I've wept unmanly tears.
I know I don't deserve a place
Among the people here.

They never wanted me around
Except to calm their fears.
If you've a place for me here,
Lord, It needn't be so grand,
I never expected or had too much,
But if you don't, I'll understand."
There was silence all around the throne

Where the saints had often trod
As the Soldier waited quietly,
For the judgment of his God.
"Step forward now, you Soldier,
You've borne your burden well.
Walk peacefully on Heaven's streets,
You've done your time in Hell."

Proud To Have
Served With Warriors
Foreign Bloggers
&
Other Stuff
Gaming
Major D Swami

WITH Lt Col Ivan Lee
Click Here
Lt Col Ivan Lee
you want him with
you in a firefight!!!!
Dying Warrior
Condors-Infantry
Fighting Vehicles
xxxxxxxxxxxxxxx
Camp
Bujang Senang
Click Here
xxxxxxxx
The A Team
Click Here
xxxxxxxx
Major General
Toh Choon Siang
Click here
Lieutenant General
Stephen Mundaw
Click Here
With His
Dying Breath
Killed in Battle
In Death
Last Thoughts
Before Battle
Whilst There Is
Life, There Is Fight
Iban Trackers
XXXXXXXX
Facts On RoP
Hutang Negara
Advertistment
XXXXXXXX
Advertistment
XXXXXXXX
Advertistment
XXXXXXXX
Advertistment
XXXXXXXX
Advertistment
XXXXXXXX
Advertistment
XXXXXXXX
Advertistment
XXXXXXXX
Advertistment
XXXXXXXX
Advertistment
XXXXXXXX
Advertistment
XXXXXXXX
Advertistment
XXXXXXXX
Advertistment
XXXXXXXX
Advertistment
XXXXXXXX
Advertistment
Advertistment
XXXXXXXX
Advertistment
XXXXXXXX
Advertistment
XXXXXXXX
Advertistment
XXXXXXXX
Advertistment
XXXXXXXX
Al-Shabab killed 54 Ugandan soldiers in Somalia, says Museveni - Same place where B Company Seventh Rangers was deployed
Tuesday, June 06, 2023
This was in the Lower Al Shabelle region. Until 1984, when the regions were reassigned, it was part of the larger Benadir region and its capital was Mogadishu. It's capital is now Merca. In 1994 we deployed to Merca, B Company commanded by Major Christopher Joseph, ordered to retake the UN Camp under the Moroccans, which was overrun by the Somali Militia. The overall commander was Lt Col Muhd Mukhtar bin Ibrahim.
Before leaving I happily had some whiskies with Major Len Olivero who was getting 45 gallon drums for us from the NORCOY (Norwegian Company), for our vehicles spare fuel. We had no bowsers for our spare fuel. Not some whiskies, enough until there was a buzz. Len encouraged me by saying "you won't know when you will get your next fix!!" Said our goodbyes and I left. We did re-take that camp without much fuss, maybe some and also freed the Italian medical staff from the UN hospital.

Christopher's Boys Of Bravo Company

They had ex Special Forces guys from US, Fiji and Britain for security. They were way past their prime, meaning old folks!!. They managed to escape the Militia with their weapons and their lives intact. We meant business. We left with enough armour and soldiers for that mission. We went in locked and loaded.

At the perimeter in Merca, background is the Indian Ocean



I remember challenging the Police Commander of the Lower Shabelle for a gunfight for insulting my CO, Lt Col Mokhtar as a thief, as we had confiscated 6 pick ups, to prevent them from being converted to technicals. Major Christopher, Col Mokhtar and Ivan Lee asked me whether I was serious. I said I was.
I gave him the appointed date and time. He did not turn up. After that I went to look for him in the villages there. They told me he had fled the region.
posted by Major D Swami (Retired) @ 9:32 PM


Dr. Phil's Audience Go Silent as 5th Grade Teacher Debunks Gender Nonsense
Dave Rubin of "The Rubin Report" shares a clip of Dr. Phil hosting a conversation about gender inclusivity and witnessing a 5th grade teacher school guests Eli Erlick, Dr. Yalda Safai, and Asra Nomani on if men can menstruate.
I am absolutely stunned at how mentally deranged some of these trans activists are if they actually believe what they are saying. The fact that a 5th grade teacher made them so dumbfounded and almost speechless tells you all you need to know. We need thousands like him. This teacher is amazing: calm, secure , tells the truth and knows his biology facts. I hope the biology deniers around him learned a good lesson from him. They looked like fools.
The reason he is so calm with these people is because as a fifth grade teacher, he's had a lot of practice explaining things to children.
posted by Major D Swami (Retired) @ 9:29 PM


MALU! MUHYIDIN GAGAL DAPAT GELARAN "TUN" DARI AGONG HARI INI!
posted by Major D Swami (Retired) @ 3:05 PM


What bothers Major Gaurav Arya about Rahul Gandhi's speeches abroad
Rahul Gandhi's grandmother Indira Gandhi had no problem launching Opertaion Blue Star against the Sikhs. You want to know why? She was a Muslim as Rahul Gandhi is. That is why she was riddled with bullets by her Sikh bodyguards. After that there was a pogrom against the Sikhs, by the Muslim Congress Party. 3,350 plus were slaughtered. Her son Rajive Gandhi's speech justified the 1984 anti-Sikh riots.
He had said, "Jab bhi koi bada ped girta hai, to dharti thodi hilti hai. (When a big tree falls, the earth shakes.)"
Read it all here.....
Excusing away the killings of innocent Sikhs after ordering an assault on Sikhism's most holiest temple the Golden Temple, Amritsar. They made it look and sound like the Hindus conducted that atrocity!!!!
posted by Major D Swami (Retired) @ 2:23 PM


Anti-Hindu Preacher Zakir Naik Running Conversion Racket In UP? Cops Bust Syndicate In Ghaziabad
A strange case of religious conversion has come to the fore in the Ghaziabad district of Uttar Pradesh. A minor Jain boy was lured online by Islamists to follow practices of Islam including offering Namaz five times a day. As per reports, the victim's father filed a complaint on at Kavinagar Police Station in which he said his minor son was lured into practising Islam.
posted by Major D Swami (Retired) @ 2:01 PM


How Islam DESTROYED Speakers Corner? By Harris Sultan
We delve into a recent news story that received minimal coverage, highlighting the growing concerns surrounding incidents at Speaker's Corner in Hyde Park, London. We discuss an attack on a woman, previous incidents, and the alarming lack of media attention.
Join us as we explore the story of a man admitting to a gun attack plot, his shocking criminal record, and the potential consequences he may face. We also reflect on the broader issues of lenient sentencing, radicalization, and the challenges faced by those who speak out against Islam.
Watch as we discuss the need for support and our concerns for personal safety.
posted by Major D Swami (Retired) @ 12:38 PM


How Islam Conquered Persia? By Harris Sultan
One of the most pivotal and controversial events in Middle Eastern history: the Islamic conquest of Persia. Witness the clash of empires, the devastation wrought by conflict, and the political, social, and religious factors that fueled this brutal struggle for power.
Explore the weakening of the Sassanian Empire, border disputes with the Byzantine Empire, and the rise of Islam amidst the turmoil. Discover the early battles against Persia and the conquest's profound aftermath, including the persecution of Zoroastrians and the resistance movements influenced by the Mazdakites.
Travel back in time to unravel the tragic chapter that forever shaped the modern identity of Iran.
posted by Major D Swami (Retired) @ 12:34 PM


'Kedah owns Penang' claim: PM lets AG decide further action on Sanusi By Alyaa Alhadjri & Hariz Mohd

Malaysiakini :

PARLIAMENT

| Prime Minister Anwar Ibrahim today said he has left the matter of any further action against Kedah Menteri Besar Muhammad Sanusi Md Nor's claims that "Penang belongs to Kedah" to the Attorney-General's Chambers (AGC).
Speaking in the Dewan Rakyat during Prime Minister Question Time, Anwar described Sanusi's claims as "irresponsible" and confirmed several police reports were lodged on the matter, including under the Sedition Act. "I have left the matter fully to the AGC to take appropriate action," the premier said in a response to Lim Guan Eng (Harapan-Bagan).

Anwar said Penang's status as a state separate from Kedah had been resolved before independence, at the time under the reign of Kedah's ruler - Sultan Sir Badlishah Abdul Hamid Halim Shah - and reaffirmed since under the Federal Constitution. "All past agreements (signed with the British) were declared void. "If there was one request from the late Sultan Badlishah to the British, it was for the people of Seberang Perai to decide whether they wanted to remain with Penang or join Kedah," he said.

Anwar said the final agreement to form the Federation of the Malay States in August 1957, remained as a basis of the current constitutional provisions. "So why is the matter (on Penang's status) raised now? Because of the state elections! [...] This matter had never been raised before except for (now) by an irresponsible leader," he said.


Several opposition lawmakers earlier attempted to raise a point of order and stop Lim from asking the question which they claimed contained a negative assumption.

Dewan Rakyat Speaker Johari Abdul

Dewan Rakyat Speaker Johari Abdul, however, ruled for Lim to proceed as he did not find any of the elements claimed by the opposition. Previously, PAS secretary-general Takiyuddin Hassan had defended Sanusi against calls for action to be taken against him, stating there needed to be an "academic discussion" on the matter.

On June 1, Jelutong MP RSN Rayer lodged a report against Sanusi and Penang police chief Khaw Kok Chin said the case is being investigated under the Penal Code and the Communications and Multimedia Act 1998.

BadCaptain : Sanusi is jealous frustrated and bitter because Kelantan and Kedah are the poorest states in Semenanjung and he can't do anything about it no matter how hard he tries so he compensates but shouting empty lazy rhetorics day after day.

He realizes Medical Tourism is flourishing in Penang, Kedah has zero.He is begging for an international airport, claims he has it all workout ,the financial backing and support of investors to succeed but nobody is convince about the airport in Kulim.High chances of a failed doomed project.

Tens of thousands of Kedahans visit Penang during every long weekend public holiday breaks,during festive seasons or school holidays. All the shopping malls in Penang, tourists spots are jammed packed with locals, outstation folks and foreigners alike.Ask most Kedahans and they will praise "Happening Penang" and curse their own sh##ty shopping malls,dull lifeless entertainment night spots.
[More to follow]
posted by Major D Swami (Retired) @ 12:21 PM


Sanusi's extraordinary, dangerous land-grabbing gambit By Mariam Mokhtar

Malaysiakini :

COMMENT

| What will happen when the Philippines does a 'Sanusi' and tells Putrajaya that Sabah belongs to them, Brunei demands the return of huge areas of Sarawak and Sabah, and Thailand then lays claim to the northern states of Perlis, Kedah and Kelantan, and we inform Singapore to prepare to be absorbed back into Malaysia?
When will the madness started by Kedah Menteri Besar Muhammad Sanusi Md Nor stop? Where did he get his idea from?The MB talks about rectifying the 'distortion of history'. How far back in time is Sanusi prepared to dig? Will he accept that in the sixth century, Kedah was steeped in Buddhist and Hindu culture? Artefacts from the Bujang Valley confirm this, but ironically, Sanusi was happily demolishing temples and cancelling the Thaipusam holiday.

Last weekend, at Lima'23 in Langkawi, Sanusi donned the uniform of admiral of the Malaysian navy. Didn't the former defence minister Mohamad Sabu ban politicians from wearing military uniforms and receiving honorary awards? Sanusi insults the serving men and women who worked hard and sacrificed much for the right and privilege of receiving their award and for wearing their uniform.

Proof of pudding always in the eating : This is what leadership in Malaysia is all about. When don't have solutions, which is usually most of the time, let's blame some one else. The final blame always on the Israelis and Jews even though none in sight but the sycophant zombie followers will lap it up.

Coward : I see your point Mariam. PH, particularly PH in Kedah, should drum up the fight on all the points you raised. This is a distraction yes, and one that sacrifice PN's chances in Penang for kedah. It is so bad that it had to be countered but PH should not let him get away with this distraction.

Go back to basics and challenge him constantly and consistently on his administration's non performance immediately after addressing the issue. Do this for his next issue and there next and the next to drum it home. If Sanusi says he is willing to accept whatever a court rule on the topic of Penang belonging to Kedah why haven't he start the court process yet.

According to him, kedah had been wronged. As MB, if this is his view, it's his duty to seek redress. As he said, the ultimate referee is the courts. The courts are available to him, why haven't he use it?
Read it all here.....
posted by Major D Swami (Retired) @ 12:07 PM


'Halt public land sales', state PKR Youth tells Terengganu MB
The face of one with his hand in the cookie jar





Malaysiakini : The Terengganu PKR Youth wing has urged the state's menteri besar, Ahmad Samsuri Mokhtar, to halt all sales of public land.
This comes after Samsuri dismissed concerns over the sale of land to the Khairunnisa' Association, whose membership comprises wives of current and former elected representatives from the state, as a "non-issue".

In a statement yesterday, the wing suggested that the state government implement an open tender system to avoid the "perpetuation of cronyism" under Samsuri's (above) leadership.

It also demanded answers from the PAS-led Terengganu state government regarding the land sale. "What considerations were given for the reduction of premium payments to a price that is 11 times cheaper than the original premium price?

"What practices or precedents led to a payment that is 58 times cheaper than the market price for the land? "When Samsuri says that this is just a minor issue, is the sale of land owned by the people to PAS-affiliated NGOs a common practice approved by their leadership?" the wing asked.

From RM29.3m to RM500k

It was recently revealed that the state government allegedly sold a sizeable plot of land measuring 11,299 square meters in Batas Baru at a significantly reduced price compared to its estimated market value. According to reports, the land was initially assessed to be worth RM29.3 million but, shockingly, it was sold to Khairunnisa' for a mere RM500,000.

Cowboy : Macc must nab the MB quickly and get the AGC to press charges. Compared to LGE case this is very much higher in value and put the latter case as insignificant. Hadi is now also implicated and PH should continue ride on their scandal.

Headhunter : Historically, sales of government owned land is just a scam to defraud the rakyat by corrupt politicians. We see this in every single state. Either that or they just help themselves and their cronies to these lands at dirt cheap price under the guise of development. It's the easiest way to line their pockets because it is "legal". The MACC should get busy.

Krabian : Now you know why Unity Govt don't want to hand over state development funds to incompetent PAS clowns.

Marriwala : This is the real Pas....only money matters religion is only during elections...they said all along PKR..bought the land ...suddenly when it's proved its Pas who sapu it....the MB says its a non issue

Coward : In Malaysia, all fishy transaction "complies" with the law because it went through "all the process" required by the law. That's always the justification given by those in power to say it is all well and proper? Is it? As far as I can tell, manipulation of the process or procedure is normally what gets someone charged.

Take 1MDB for example, was all the legal procedure for transferring money followed to the letter, but yet people are charged and convicted because of the manipulation of the process. So Terengganu MB, stop hiding behind procedural "correctness" (quotation intended), and start explaining why the land was let go at such a steep discount.

If you have good reason on your side, tell us, and turn the table on your opposition. It's not about challenging your position as MB to make decision, but to make sure you (and all MBs) do a fair decision.
Read it all here.....
posted by Major D Swami (Retired) @ 10:57 AM


PMX BAKAL DEDAH DOKUMEN PENTING ATUK ?
posted by Major D Swami (Retired) @ 10:41 AM


How US Army Jungle Soldiers Are Training For A Possible War With China
As tensions with China build and the US military sends more troops to the Asia-Pacific region, soldiers with the skills to fight and survive in the jungle are increasingly vital. The US Army trains soldiers for jungle warfare at the 25th Infantry Division's Lightning Academy on the island of Oahu in Hawaii.
Insider's chief video correspondent Graham Flanagan spent 12 days inside the Army's Jungle Operations Training Course, where a cross section of soldiers of various ranks and experience levels learn to fight, move, and survive in the jungle. Eighty students begin the course on day one, but only 51 will make it to graduation.

The rest are dropped from the course by failing one of five critical tests. On day nine, students begin a three-day culminating exercise that incorporates the skills and lessons taught in the course, such as rope systems, rappelling, survival skills, small-unit tactics, and land navigation.
Students who graduate from the course receive the Army's coveted jungle tab.
posted by Major D Swami (Retired) @ 10:19 AM


Dr M and PN - Disrespecting the royal institution By Commander S THAYAPARAN (Retired) Royal Malaysian Navy
Extremist Mullah with an extremist racist





Malaysiakini : "It is unusual for Malays (to go against their own rulers) but such is the feeling now on the ground."

- Former prime minister Dr Mahathir Mohamad on PN's emergency.
COMMENT | Of course, the former prime minister (twice) Dr Mahathir Mohamad would want to answer any charges in a court of law. He and Perikatan Nasional (PN) need the attention. Going against the royalty while claiming to defend Malay rights is exactly the strategy that a theocratic state engages in to attain hegemonic control.


The spectacle of Mahathir defending his speech would galvanise not only his political fortunes but would serve the agenda of the theocrats-in-waiting. People who vote for this religious extremist organisation who for years were taught to obey and respect the feudal culture would turn themselves over to another kind of theocratic feudal system.

Now, rational people can have their views on the royal institution in this country and those views may very well get them in trouble with the law. But for Mahathir, PN and the rest of the Malay uber alles crowd, going against the royal institution means bupkis.

MS : More significant than these concerted forays against the royals, is the general nonchalance of the Malay masses who, in the past have been known to froth in the mouth anytime a seeming slight against the "institution" was perceived.

Whether it is a shift in the general mood among the hoi polloi or whether such expressions were nothing more than sandiwara staged by Malay politicians to intimidate non-Malays is moot. Whatever the case, luminaries like Hadi and Mahathir, it appears, are licensed by their followers to indulge in a bit of sedition any time they choose
Read it all here......
posted by Major D Swami (Retired) @ 10:01 AM


US Begs China For Talks, China Rejects Offer. China Understands Language Of Force
Monday, June 05, 2023
Major you mentioned china invented gunpowder, gunpowder was first mentioned as agnichuran . Ancient Indians used Saltpetre (Agnichurna) in mining and warfare. It was already mentioned by Kautilya in Arthashastra as a weapon of war (4th century BC).
posted by Major D Swami (Retired) @ 2:57 PM


Satu Dari Isu Surat Nik Abduh Sudah Terdedah
Dalam video ini sdr iswardy memberikan kupasan berkaitan dengan isu2 politik semasa. satu dari isu yang terdapat dalam surat nik abduh yang diserahkan kepada PM sudah terdedah. ada 3 team dalam pas berusaha menjadi menteri besar kelantan. siasatan terhadap mahathir berkaitan isu hina raja2 & perkauman dirujuk kepada peguam negara. siasatan terhadap pemimpin tertinggi perikatan nasional sudah dimulakan. mahathir disiasat oleh polis di bawah sosma
posted by Major D Swami (Retired) @ 1:27 PM


DAHSYAT! AGONG SEMBELIH KEPALA MUHYIDIN, TUN M & HADI HARI INI!
posted by Major D Swami (Retired) @ 1:22 PM


Special Forces Fight for their Lives - The Deadly Tongo Tongo Ambush
I had the unfortunate privilege, but also the honor of witnessing the full version of this video. These were some of the finest trained warriors of our nation. And despite all that, they were overwhelmed by just sheer weight of numbers, and poorly aimed gunfire.
posted by Major D Swami (Retired) @ 12:54 PM


$7 Billion Chip Dream Shattered! CCP Lifted a Stone Only to Drop It on Its Own Foot & Banned Itself
The G7 Leaders' Summit concluded in Hiroshima, Japan, on May 21. Drawing significant attention from the global community, the summit, for the first time, had economic security as its main focus. During the preceding meetings of G7 finance and foreign ministers, key discussions centered around reorganizing supply chains and addressing economic coercion, perceived as directed towards the Chinese Communist Party (CCP).
The subsequent series of actions taken by various parties have reignited the already long-standing U.S.-China technology war. The focus of this war has once again intensified around high-end chips. Japan's move was part of a classified semiconductor agreement reached in Washington on January 27 between the US, Japan, and the Netherlands, aiming to expand semiconductor export control measures against the CCP.

In addition to the 'classified agreement' reached with Japan and the Netherlands, the United States also proposed in March last year the Chip4 alliance including the US, Japan, Taiwan, and South Korea. On August 8 of last year, South Korea agreed to participate in preliminary discussions, marking the official formation of the chip4 alliance.
The external community believes that the underlying intention of chip4 is to leverage the alliance to exclude Mainland China from the global semiconductor supply chain.
posted by Major D Swami (Retired) @ 12:37 PM


Police arrest 23 people in Hong Kong on Tiananmen crackdown anniversary

Malaysiakini : Hong Kong police said they detained 23 people on Sunday for "breaching public peace", including a 53-year-old woman for "obstructing police officers" as authorities ramped up security for the 34th anniversary of the 1989 Tiananmen Square crackdown.
Restrictions in Hong Kong have stifled what were once the largest vigils marking the anniversary of the bloody crackdown by Chinese troops on pro-democracy demonstrators, leaving cities like Taipei, London, New York and Berlin to keep the memory of June 4 alive.
Near Victoria Park, the previous site of yearly vigils, hundreds of police conducted stop and search operations and deployed armoured vehicles and police vans. Reuters witnesses saw more than a dozen people taken away, including activist Alexandra Wong, 67, who carried a bouquet of flowers, a man who held a copy of "35th of May", a play on the Tiananmen crackdown, and an elderly man standing alone on a street corner with a candle.

"The regime wants you to forget, but you can't forget... It (China) wants to whitewash all history," said Chris To, 51, who visited the park in a black t-shirt and was searched by police. "We need to use our bodies and word of mouth to tell others what happened." The police today said officers took away 11 men and 12 women aged between 20 and 74 who were suspected of "breaching the public peace at the scene".
Hong Kong activists say such police action is part of a broader campaign by China to crush dissent in the city that was promised continued freedoms for 50 years under a "one country, two systems" model when Britain handed it back in 1997.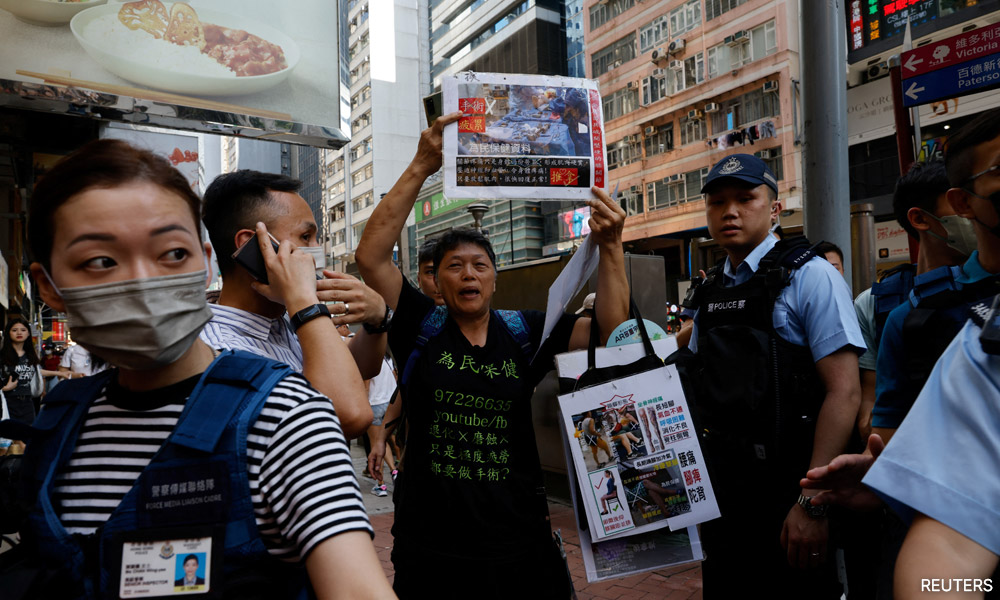 Read it all here.....
posted by Major D Swami (Retired) @ 11:41 AM


Ending poverty: Sanusi accuses PM of 'using' the poor, says he's all talk By Isabelle Leong

Malaysiakini : Kedah Menteri Besar Muhammad Sanusi Md Nor has scoffed at Anwar Ibrahim's commitment to eradicate hardcore poverty in the country, accusing the prime minister of "using" the poor.
Sanusi claimed that Anwar is all talk, saying the latter does not know a thing about being destitute. "He (Anwar) talks about the poor, has he ever been poor? "He is the son of an Umno leader - his father was an MP, and his mother was an Umno Women's wing (member).


"He studied at Malay College Kuala Kangsar," Sanusi said in his speech at Perikatan Nasional's campaign programme held in Tanjong Karang, Selangor last night. Among others who were also at the ceramah were Selangor PN chief Azmin Ali, former Tanjong Karang MP Noh Omar, Bersatu Women chief Rina Harun, Selangor Bersatu chief Abdul Rashid Asari, Kapar MP Dr Halimah Ali and Pendang MP Awang Solahuddin Hashim.

Over 4,000 supporters from all walks of life, with the majority of them donning PN shirts, flooded the PAS Complex to hear the words of the coalition's leaders. Recollecting how he grew up in a hardcore poor family, where his father took up numerous jobs to support his family of 13 siblings, Sanusi asserted that he knows what it's like to be poor.

Ipin Upin : Talking nonsence all the time. Why was Kedah aerotroplis not approved by Yiddin and Ismail Sabri. Always think he is smart but actually not so. Empty vessels make lots of noice

PurpleTurtle8618 : The "quality" of a pas leader, talk rubbish as usual! He can't solve pertinent problems in Kedah, so he blame others! He blames Penang, Anwar, DAP of course, anybody else except himself and his cronies!

He forgets that he is an MB and has certain power to act to improve Kedahans, instead his only "achievement" is closing the betting outlets, not aware that nowadays people can bet over internet, so who needs brick and mortar!

So arrogant that he choose to fight and intimidate the federal govt with his spiteful mouths instead of working together for the good of kedah! Give a good reason why a rational voter would vote for him!

Koel : My dear Sanusi, your early childhood poverty as you claim does not excuse your arrogance, greed, your racism or your lack of knowledge on national and international matters.

If that is your qualification for being a leader, you are even more misguided than we thought. As said previously, the more you lot open your mouths, the more we see your lack of qualities to be a leader in this 21st century. You and your type will drive this country back into poverty, misery and the dark ages with this kind of ideology.

Kindly shut up and go acquire some wisdom first. That is if you truly love your country and want the best. At the moment, it certainly does not look like you do. Just a bunch of petty and sad men driven by hate and foaming at the mouth. Not leadership, old boy.

AKJ : Sanusi ni mau menyamakan level beliau dgn DSAI. Perjuangan DSAI utk org miskin bukan baru bermula ketika beliau diangkat sbg PM. Beliau suda berjuang utk golongan miskin sejak dr bergelar pelajar Universiti.

Sejarah tak bpeh dipadam. Sanusi nak kata DSAI ni hati tisu, cermin diri la. Kmu tak dapat apa kmu nak merenggek mcm polong. Kmu bercakap tentang Kedah yg hasil buminya tdk seberapa tapi nak peruntukan berbilion², tak apa. Tu Sabah dan Sarawak yg hasil buminya menjana ekonomi Malaysia tapi selama ini tdk dipeduli.

Ada kmu kisah?? DSAI ambil tahu dan memulakan langkah pembetulan perjanjian 1963 tubuh negara. Kmu menuduh DSAI tak layan kmu ertinya kmu tak tahu cermin diri, nqk berunding jgn bawa saka berdamping dgn kmu. Nak minta, minta cara tertib bukan cara biadap.

Siapa pun tak layan org mcm kmu. Kmu berasal org miskin yg suda melupakan adab. Cara kmu bercakap menampakkan betapa angkuh dan bongkaknya kmu. Malah menampakkan ciri org tak ada ilmu agama. Bercakap seolah² dunia ini milik persendirian kmu.

DSAI bila turun dari kedudukan PM, tetap akan dihormati atas prinsip dan perjuangan beliau. Kmu semasa pegang jawatan MB lagi da dikutuk dan dibenci. Itu beza antara kmu dan DSAI. Bagai langit dan bumi

Robbed!! : Saya harap rakyat Selangor tidak terpengaruh oleh retorik ini, kaji dulu visi dan misi Anwar Ibrahim dari mula lagi baru anda akan tahu akan usaha jangka panjang untuk menolong rakyat miskin dan negara kita yang telah di 'R 0 g 01' oleh pemimpin terdahulu....
Read all the shit heaped on him here......
posted by Major D Swami (Retired) @ 11:12 AM


Nusantara (IKN) - The New Capital of Indonesia (East Kalimantan)
Sunday, June 04, 2023
In today's new adventure docuvlog, I explore the new capital of Indonesia, Nusantara (IKN) in East Kalimantan. From my KTM 790 Adventure, I take you with me on a journey filled with stunning landscapes and unique experiences, as I we get a glimpse of Indonesia's future.
We start by embarking on a motorcycle journey from South Kalimantan to East Kalimantan. After a fun ferry ride to Balikpapan, I check into the luxurious Swiss Belhotel overlooking the beautiful beach of Balikpapan.

Next, we switch gears and hop on the jet skis at Seadoo Safari Balikpapan to explore Balikpapan from a different perspective. Riding past the oil and gas platforms, we enjoy the calm waters and beautiful views as we ride under the new Balang Besar bridge into Nusantara (IKN).

After a few days of video editing from the hotel, I embark on a thrilling ride, accompanied by a local guide named Ari, who offers to show me around Nusantara. We navigate through the construction site and manage to enter the center of the new capital , witnessing the progress firsthand.
This video captures the essence of adventure, cultural encounters, and exploration, offering a unique glimpse into the beauty and future of East Kalimantan and Indonesia as a whole.
posted by Major D Swami (Retired) @ 8:40 PM


Bruno Manser was a Swiss cowherd who first entered Malaysia in 1983 By James Ritchie With Permission

Bruno Manser was a Swiss cowherd who first entered Malaysia in 1983 before making his way to Sarawak as a tourist.
Between April and August 1984, he worked as a part-time speleologist exploring the caves with a Mulu expedition. This is where he met the nomadic Penan for the first time in his life. For the most part of 1984, Manser familiarised himself with the Baram district visiting Kelabit villages and meeting the nomadic and semi-nomadic Penan.

IN May 1984 he made Long Seridan his base as the Kelabit longhouse had a small medical station and airstrip. Nomadic Penan from under its chief Agan Polisi Jeluan, would often visit Long Seridan for basic medical basic treatment if there was an emergency because it was one of the Stations of the Flying Doctor Service.

After his short stint in Mulu ended in August, Manser decided to explore neighboring Indonesian East Kalimantan and so he applied or an Indonesian visa at Kota Kinabalu. He then flew to Tarakan and from there to the Long Bawan, the administrative centre of the Kerayan district, adjacent to Bario.

After three weeks of living with some of the Punan tribes of Kalimantan, he trekked back to Bario. From there he made his way to back to Long Seridan and sought treatment because he had contracted a deadly strain of Malaria.

In the next weeks Manser face a life and death situation, but still refused to return to Switzerland. In November a family friend Roger Graf visited Sarawak and came to check on his health. By now Manser's visit pass to Sarawak had which he obtained in early 1984, had expired.
Read it all here.....
posted by Major D Swami (Retired) @ 8:23 PM


Anti India Global Propaganda Campaign by Extremist Organizations Within and their State Sponsors
Your speech is very nice, to the point Yana. Congratulations on highlighting very relevant issues as being Indian and for Indians. Just fantastic! How well you have studied each and every case and more than that the way you presented each case with an absolute resembling example was completely true and commendable. Every single point is 100% true and backed by events that has occurred. I am impressed!!!
I am a Kashmiri Hindu who was a victim of 1990 genocide but I find this so refreshing. She is a clean breath of air. Please keep up the good work.
posted by Major D Swami (Retired) @ 7:47 PM


"Sir Sanusi Light" - The Later Day Founder Of Pulau Pinang
Islamophobia is "a word created by fascists, and used by cowards, to manipulate morons." Take note "Sir Sanusi Light". Please learn up about
Infidelphobia
.
Muslims are very late in history, only 1,400 years old. Judaism is 4,000 years old. Hinduism is more than 10,000 years old. Christianity is 2,000 years old. Turkey was built on the blood of Christians. Take note Sanusi, Muslims love to appropriate the culture and inventions of others.

The Muslim conquest of Spain was an invasion of the Iberian Peninsula by the Umayyad Caliphate, occurring from approximately 710 to 780. The conquest resulted in the defeat of the Visigothic Kingdom, which was Christian and the establishment of the Umayyad Wilayah of Al-Andalus. Sanusi fails to mention that!!
Here is one on the Khutub Minar in India, one of the thousands appropriated.
posted by Major D Swami (Retired) @ 5:50 PM


Here's How India is Countering China in Nepal
Nepal's Prime Minister Prachanda met India's Prime Minister Narendra Modi on day 2 of his visit to India. The two countries announced new hydro-power projects and pipelines. India also agreed to buy 10,000 MW of electricity from Nepal over the next 10 years.
What does this visit mean for India-Nepal ties? What did prime minister Modi say about the trajectory of relations? In contrast to the global economic slowdown, India has reported impressive 6.1% growth in the January-to-March quarter. Bolstered by government and private capital spending, India has managed to maintain its position as one of the fastest growing emerging economies, particularly in the face of China's faltering post-pandemic recovery.

What is working for India? Watch the video to find out. France's sports minister warned Novak Djokovic against speaking about the ongoing crisis in northern Kosovo during the French open. Djokovic had called Kosovo the "heart of Serbia" and called for an end to the violence. What is the crisis all about? Which side is Djokovic on?

Japan plans to discharge millions of metric tonnes of nuclear wastewater into the Pacific Ocean. This wastewater has been accumulating since disaster struck the Fukushima nuclear power plant in 2011. Japan is running out of storage space for this wastewater, which is why it is desperately trying to dump the waste in the ocean.

But Tokyo's plan is marred with controversy, with physical protests being arranged against it as well. Watch this Vantage report to know more. Amazon employees are up in arms over multiple issues.
Workers demonstrate against return to office mandate, mass layoffs and climate change. Will Jeff Bezos listen to the pleas of his staff?
posted by Major D Swami (Retired) @ 4:24 PM


Pakistan doesn't have anything to offer Taliban, let alone IMF
All the countries that have lent money to Pakistan and defaulted should collect them back from the Pakistani nationals settled in such countries. Such countries should pass law to confiscate their properties and assets. Just wait for the difficulty level to reach the next level.. And see the bloodshed on the street..
Marie Antoinette : "Let them eat cake". Why can't OIC give them the loan? They'll flock to discuss on Kashmir matter but they cannot fund pak, they themselves don't have trust within and talk about Kashmir? Wah !!! Pakistan is in debt trap, its economy is collapsed because of govt instability.heavy borrowings from China in the name of corridor building & road constructions, moreover political crises deepened between ruling party & the opposition parties.
They have to remember Ghazni. Ghazni sold 400,000 of our sisters to Iraqi Khalifa at the rate 2 dinars per sister.
posted by Major D Swami (Retired) @ 4:06 PM


Rahul Gandhi's links with Soros completely exposed in Washington DC
As the Rahul Gandhi (do not let the name deceive you, he is a Muslim) entourage winds its way through the East Coast of the United States, his links with George Soros and several anti-India organizations with dubious funding sources are becoming evident. A must-watch to know how these destabilizing elements are attacking India and the Modi Government.
The challenge is not for Modi government. The challenge is for people of India. They make a choice in 2024! They should know what's in store if Modiji is gone. All the history will hit them with vengeance. He is the most clever Villian on this mother earth. It's high time secular Hindus woke up and see what Congress is up to. The Supreme Court, the President and intelligence agencies need to get involved now. Indian people need to be protected from this East India Company 2.0 that Congress is inviting into India. Congress has become a severe national security risk. Congress should be disqualified immediately.
Rahul Gandhi should be tried under NIA act for his comments to demean Indians outside the country.
posted by Major D Swami (Retired) @ 3:27 PM


Tibet's Dark Chapter - Unmasking China's Brutal Invasion
For centuries, China and Tibet co-existed as independent cultures. But in 1950, Communist China's army rolled into Tibet, signalling the end of Tibetan freedoms and culture.
As a Tibetan who grew up in India, I love and cherish the India's national motto of 'Satyamevayajayati - Truth Alone Triumphs'. Ancient Indian wisdom is a great source of inspiration and courage for us in our struggle for freedom. Truth is in our side. Nehru, the secretive Muslim and the Congress Party of Muslims were the biggest drawback of India, he did so many blunders. One of the greatest tragedies in world history, but the whole world chose to stay quiet.
The Chinese got the land but NOT the people.
posted by Major D Swami (Retired) @ 3:18 PM


BREAKING: Rahul Gandhi Connected to Terrorist Organizations?
Saturday, June 03, 2023
We know the Congress party is connected to George Soros and other Anti-Nationals who are aimed at destroying India. SHOCKINGLY, in his US trip Rahul Gandhi is gonna meet with Terrorist organizations. INC's link with underworld organisations like ICNA, IAMC, SIMI, MCNJ, Jamat-e-Islami, IMANA, PIMA, HAMAS are hidden in plain sight.
This is an alarming situation and is deeply concerning to the national security of India. What is Rahul Gandhi's intention behind openly meeting with the Islamic Brotherhood! Is he insecure about 2024 elections? Or is there a plan to Hindu Genocide? String Vinodh exposes the connection, dethrones their agenda, and daringly unleashes the truth!
A son born of a foreign mother can never be patriot to his own nation.
posted by Major D Swami (Retired) @ 9:31 PM


Every Singaporean Son Episode 1 to Episode 8
National Service in Singapore.
posted by Major D Swami (Retired) @ 8:36 PM


RAHSIA PANAS! HIDUP TUN M BERAKHIR DALAM PENJARA KAJANG!
Segala wang hasil rompakan lngsung x dpt tolong Atok utk menumbangkan Anwar dan mnutup kes2 salahlaku Atok dan kroni2.
posted by Major D Swami (Retired) @ 5:51 PM


KANTOI ! SANUSI MAKAN DIRI ?
Kedah nak maju macam Pulau Pinang Rakyat Kedah mesti tukar kerajaan undi PH dan PAN tolak total PN dan PAS baru Kedah boleh maju macam Pulau Pinang....PN dan PAS di Kedah bukannya menang PRU 14 PN dan PAS menang langkah shereton kerajaan tebuk atap dan ikut pintu belakang
posted by Major D Swami (Retired) @ 3:50 PM


It's the movie they really don't want you to see: #WhatIsAWoman?

Watch the explosive documentary starring @MattWalshBlog

FREE on Twitter for 24 hrs.
posted by Major D Swami (Retired) @ 3:18 PM


If Cleopatra an Egyptian can be a Black, so can George Washington
posted by Major D Swami (Retired) @ 3:10 PM


Top 7 Israeli Inventions that Changed Warfare
As an Israeli who is about to be one of the soldiers on that field, I would like to say thank you, for showing the world not only the bad but the good, with all your phrasing true to be on the defending side of us, we are not the kind of army who wants to attack and demolish, but will do so for it's defensive reasons, a lot more Israeli warfare tech can be included but I like the list.
Great video! But there are many more:

1. The Python air to air missiles, will hunt an enemy airplane even if shot to the wrong direction. Has a 360 degree hunting ability. No way to escape it.

2. Trophy active defense system for tanks and vehicles. Will shoot an incoming anti tank missile or RPG in the air.

3. The helmet for pilots made by Elbit that enables the pilot to use his helmet and head motions to lock targets. Used now world wide.

4. Iron beam will revolutionize the battle field with active lasers, it's now almost operational.

5. The whole field of unmanned machine guns which Israel leads. Mossad used one last year to eliminate the leader of the Iranian nuclear program. Remote controlled.

6. Arrow missiles that can shoot down ballistic missiles and outside the atmosphere targets like satellites.

7. Confidential: a system that detects and eliminates tunnels. A game changer against Hamas and other enemies.
The list goes on and on. For example look into robotics, unmanned vehicles and boats and more.
posted by Major D Swami (Retired) @ 2:57 PM


Top 10 Obama Scandals
posted by Major D Swami (Retired) @ 2:32 PM


Why Pakistan Is In Trouble
I never knew the population of a country can be so weak against such an unjust system.
1) Army will not allow any single party to have all the power. So they can easily kick him out whenever their demands are not fulfilled.

2) Army has never let anyone complete their term in Pakistan. They have ousted Nawaz several times. If they don't have any control, then they put a curfew and declare Marshlaw.

3) Pakistan's whole economy was dependent on the funding they were receiving from the USA. When that was stopped, that was the start of decline.
It is said that most countries have an army but in Pakistan, the army has a country.
posted by Major D Swami (Retired) @ 2:25 PM


Old, unfit and wobbly Biden falls on stage at Air Force Graduation ceremony
We need a president who is healthy, strong & knows what he's doing. Biden fell down without even knowing he did and why. Perfect example of his entire presidency. And they said Trump wasn't fit to be president.
The worst part is how difficult it was for him to get up. He is completely failing in all aspects. What an embarrassment in front of the entire world! If anyone actually votes for him again they should be EXILED from the Country! How embarrassing it is to have the rest of the world see this guy as our leader, and even worse is how the media portrays the US citizens as accepting him as capable.
The WH staff was so stunned that the press knows and called out the corruption
posted by Major D Swami (Retired) @ 2:14 PM


Unrepentant Puad defends Rafizi criticism after Asyraf's reprimand

Malaysiakini : Umno supreme council member Mohd Puad Zarkashi has doubled down on his remarks against PKR deputy president Rafizi Ramli's performance as the minister in charge of the economic portfolio.
This comes after Umno secretary-general Asyraf Wajdi Dusuki noted a need for the party to reel in its leaders from attacking others in government. "I was accused of shooting myself in the foot. Is asking Rafizi to present a realistic and extraordinary formula considered shooting my self in the foot?

"Is urging the minister that "performed" be considered shooting oneself in the foot? "What is wrong with Rafizi being reprimanded? If he is exceptional, the unity government will be stronger," Puad (above) said in a statement on Facebook.

Asyraf had said earlier that the party needed to contain and manage this kind of action.

Umno secretary-general Asyraf Wajdi Dusuki

"There is no point if we keep on attacking each other. Shoot our own foot to please certain quarters of society. "When we form the government, it is a collective responsibility. It is not a one-man show; we need to put a stop to the blame game," he added.

Vgeorgemy : It is well documented that the downward trajectory of our economy started with 1MDB looting and the kleptocracy of Puad's currently jailed boss. Puad now wants to rewrite history by blaming the current ministers.

GrayPigeon2115 : Puad, you have a hidden agenda with your comment and just a damn loud mouth good for nothing except for your own selfish end. Don't pretend to be stupid. Ofcourse you can criticised, reprimanded and give an opinion as well but you are missing the point what your team member is advising you and you are playing stupid.

Whether you are right or wrong is another matter but whatever opinion you have with your own Team ( Unity Govt) bring it to the attention to the leaders and not openly criticize your own team members - that is call shooting yourself in the own foot !!!! Hopefully you have the brain to understand the difference now.
Read it all here.....
posted by Major D Swami (Retired) @ 1:11 PM


New Tiananmen museum opens in New York ahead of June 4 anniversary

Malaysiakini : The hope for a "free China" lives on in a new Manhattan museum dedicated to China's 1989 suppression of pro-democracy demonstrations around Tiananmen Square, exhibit organisers said on Thursday ahead of the 34th anniversary of the crackdown.
The June 4th Memorial Museum in New York will be the only such permanent exhibition in the world, following the 2021 closure of a similar museum in Hong Kong under pressure from authorities. Tanks rolled into the Beijing square before dawn on June 4, 1989, to end weeks of student and worker protests.

Decades after Chinese leaders ordered the military assault, rights activists say the demonstrators' original goals - including a free press and freedom of speech - are further away than ever.

Read it all here, Malaysiakini too restricts comments, apparently Red sympathizers....

Al Jazeera English - In 1989, hundreds of thousands of people flooded onto the streets of Beijing and into Tiananmen Square demanding democracy, freedom of speech and an end to corruption. After a seven week standoff, the government called in the troops and a bloody battle ensued.

The number of deaths is not known. The Chinese Red Cross initially issued a statement saying that 2,600 people had been killed but rapidly retracted that. The Chinese government claimed that 241 people died, including 23 soldiers. Twenty years on, Al Jazeera speaks to some of those who took part in the world's largest and most influential pro-democracy movement.

Through their personal stories and the stories of others who witnessed this historic movement, It happened in Tiananmen Square recreates an era when a new generation of Chinese wanted to finally break from the shackles of Mao's Cultural Revolution. It happened in Tiananmen Square aired from Sunday, May 31, 2009.
The Commies at You Tube want to restrict this video to prevent the spread of the fire.....
posted by Major D Swami (Retired) @ 12:00 PM


At least 207 dead, 900 injured in massive train crash in India
At least 207 people have been killed and about 900 injured after two passenger trains collided in the eastern Indian state of Odisha. The Coromandel Express, which runs from Kolkata to Chennai, collided with another passenger train, the Howrah Superfast Express, railway officials said on Friday. The Howrah Superfast Express derailed and became entangled with the Coromandel Express, South Eastern Railway authorities said in a statement.
The death toll is expected to increase, state Chief Secretary Pradeep Jena said in a tweet. Sudhanshu Sarangi, the director general of the fire department in Odisha, told Reuters that 207 bodies had been recovered so far. Images from the scene showed rescuers climbing up the mangled wreck of one of the trains to find survivors. Videos shared on social media showed the arrival of several ambulances and people being pulled out of the upturned train coaches.
Read it all here....
posted by Major D Swami (Retired) @ 11:19 AM


Shanghai Is Finished. Physical Stores Are Closing Down. 1.94 Million Companies Shut Down in 40 Cities
Analyzing the latest annual reports of Shanghai's three long-standing department store companies - Jiubai, Xujiahui, and New World - all of them have experienced a significant decline in their performance.
Specifically, Shanghai Jiubai's revenue fell by 30.51% year-on-year, and net profit attributable to the parent company fell by 48.95%. Xujiahui's revenue fell by 22.33% year-on-year, and its net profit attributable fell by 76.30%. New World's revenue in 2022 fell by 27.07% year-on-year, and its net profit attributable to the parent company fell by a staggering 174.90%.

According to a survey conducted by the Industrial Research Center of the Beijing-based "Finance and Economics" magazine, in 2022, over 1.94 million companies were de-registered in China's 40 wealthiest cities, accounting for approximately 7% of the total.
These 40 cities have a permanent population of 427 million, approximately 30% of the nation's total population.
posted by Major D Swami (Retired) @ 10:26 AM


Xi Jinping Tells China's national security chief to Prepare for worst case - Major Gaurav Arya
All the gains that India has made in it's economy will be lost if Congress n other opposition parties win election in 2024. A govt build from a coalition of parties can never agree on all matters and thus economy will be stalled. Even the military will suffer as the modernisation of all branches will stop due to many factors like corruption by ministers.
posted by Major D Swami (Retired) @ 10:00 AM


Gory and Macabre head-hunter Tales by the Dayaks of Borneo By James Ritchie
Friday, June 02, 2023

In my 42-year career as a reporter in Sarawak I have explored many unique avenues to share the many exciting stories and encounters. During holidays, the rich Sarawakians prefer to tour Europe or visit relatives in Australia, whereas the ordinary Sarawak urbanite head for Kuala Lumpur, or to the Genting highlands casino.
As for me, I found my niche in Brooke's country of 30 indigenous tribes, once ruled and dominated by piratical "Sea Dayak" head hunters living in communities scattered throughout Sarawak's 5,000km of rivers and remotest regions. As a "jungle wallah" my rumble in our own tropical forests started in 1981, when fascinated by the exploits of Malaysia's brave Iban "head-hunters", I headed upriver.

It was in upper Rajang, the nation's longest 560km river, that I discovered my forte when I encountered a pandora's box of stories of tales ranging from man-eating crocodiles and cultural cannibals! In my first exploratory foray, I was fortunate to meet Kapit-born Dr James Jemut Masing, the first Iban with an Australian PhD in anthropology.

Through him I learnt about the celebrated custom and ritual of his Iban ancestors--HEAD HUNTING!. Masing who wrote in his essay "Timang and its significance in Iban culture" (submitted for his Master of Arts degree at the Australian National University) said the human soul, from which all Iban life springs, resides in the head. Explaining, the importance of obtaining heads, he said it had to do with their lifestyle as farmers and shifting cultivators.
Warning

if you are squeamish do NOT click here, gory description.......
posted by Major D Swami (Retired) @ 8:49 PM


The Melodious Voice Of James Ritchie
Thank you for all the articles you sent to me.
posted by Major D Swami (Retired) @ 8:39 PM


Carrier Strike Group Twelve - US Navy
The US is the most experienced in Carrier Battle Groups. The rest are new comers, except for the Japanese who got a bloody nose at the battle of the corral sea.
posted by Major D Swami (Retired) @ 4:01 PM


The Deck of Fujian Aircraft Carrier Cracked? Google Earth Caught It! China VS US Aircraft Carrier
At the distant Changxing Island YuanSha Port dock, the aircraft carrier Fujian quietly sits. Google Earth's satellite images present us with a stunning scene. Upon careful observation, you will notice two apparent fissures appearing towards the rear of the carrier's flight deck; one in an L-shape, stretching 50 meters, the other a straight line, 30 meters long.
This shocking discovery has sparked widespread debate online. Although some netizens speculate that these might be arrestor cables photographed from high altitude, from another perspective, they indeed resemble cracks. Moreover, these supposed cracks' location at the rear of the carrier does not align with the usual position of arrestor cables.

Another guess is that these could be cracks in the special coating material on the deck. However, if the coating could crack so significantly, it reflects that the flatness of the deck fails to meet the required standard. How then, could such a deck guarantee the safe take-off and landing of aircraft? Those with knowledge inside the CCP have highlighted that an aircraft carrier is a complex entity that demands comprehensive capabilities for its operation.

It is not simply a matter of constructing a large, flat ship and placing aircraft on top of it. The internal workings of an aircraft carrier consist of numerous intricate systems, such as steam turbines, communication systems, logistics systems, avionics systems, and personnel systems, among others.

Additionally, an aircraft carrier relies on the support of airborne early warning aircraft, escort systems, and supply ships, forming a multifaceted network. China still faces significant deficiencies and noticeable gaps in the overall carrier system. Therefore, last August, after Nancy Pelosi left Taiwan, China conducted military exercises around Taiwan, but their aircraft carriers were noticeably absent.
The absence of aircraft carriers from such a large-scale exercise may stem from two reasons: first, China's carriers may genuinely be incapable of participating in large-scale group combat exercises; second, their participation might expose the carriers' weaknesses.
posted by Major D Swami (Retired) @ 3:35 PM


Pakistan Threatens IMF in the morning and begs for money in the evening. What's wrong?
I live in Sydney and knew about this referendum (close to my place of residence) and then its welcome cancellation. I am also aware of few khaali-stannis who are my work colleagues and were looking forward to going there. The ratio of Indians and khaali-staanis is 50/50 at my workplace at the moment so we do not let them show us their khaali-staan.
"How can a country produce so many re¢tums?" - late Tarek Fateh on Pakistan.
posted by Major D Swami (Retired) @ 3:26 PM


Kit Siang swipes at PAS leaders after Hadi's admission of unity govt offer

Malaysiakini : DAP veteran Lim Kit Siang has taken a swipe at the PAS leadership following party president Abdul Hadi Awang's clarification that the offer to join the coalition government was made after the 15th general election and there are no fresh offers.
In a statement this morning, Lim (above) said that this shows that other PAS leaders do not know what their president was talking about. "I congratulate PAS president Hadi for not suffering from the intellectual inadequacy of mistaking my personal suggestion that PAS should join the Anwar government as an official DAP or government invitation.

"But it also showed that all the other PAS leaders, including the spiritual leader, the deputy president, and the information chief did not know what their president was talking about. "If the other PAS leaders do not know what their president was talking about, it is expected that the other political parties in the Perikatan Nasional (PN) coalition, including Bersatu, have no idea what the PAS president was talking about either," said Lim.

Who made the offer?

Yesterday, Hadi told the media that the offer for PAS to join the government was not a recent one but came after GE15.

Unspin : LKS is fond of using "reverse-psychology", innuendos or even sarcasm to put his point across. Unfortunately, these kind of convoluted language is beyond the mental faculty of some PAS politicians and its supporters.

Considering that LKS is not part of the cabinet, it is best for him to keep his language simple and unambiguous so that it does not get misinterpreted - resulting in a conflict with the strategy and direction of the unity government.

Better still, if possible, LKS should stay retired because he is the lightning rod for most things that PN politicians want to blame on the DAP.

Kalu : Politics is generally associated with marketing strategies of purely manipulative intent for oneself and one's party. BN and especially UMNO had a good run for some half a century or more. And the communal mould in the political voting architecture gave them some built in advantages .

But unfortunately they got complacent, inefficient and allegedly corrupt in managing the affairs of governance. And now we have PAS and PN who are getting to be quite adept at marketing a new majoritarian mould. And for PH Harapan with its progressive mould it's an uphill task yet. Especially if the sentiments of the majority voters are quite unwilling to give up the favours of yesteryears that they were indulged with.

Obviously individuals like YB Hadi are exploiting any opportunities to further their objectives. Our senior politician Mr Lim Kit Siang an avowed nationalist should be held in good esteem for his noble intentions.
Read it all here......
posted by Major D Swami (Retired) @ 3:21 PM


Johor Orang Asli fume at 'trespass' claims, order to vacate land By Isabelle Leong

Malaysiakini : After calling Kampung Orang Asli Selai their home for over 112 years, the Orang Asli in Bekok, Segamat in Johor are seeing red after being accused of trespassing on the "government-owned land".
Johor Orang Asli Action Committee chairperson Achai @ Juti Kais told Malaysiakini the residents are baffled and infuriated after being slapped with a notice by the Segamat Land and District office on May 22 to vacate the land. The 60-year-old said they were given 30 days from when the notice was served to do so.

"The notice issued to us prohibits us from entering without permission. What is the Orang Asli community supposed to do if we can't enter the forest? "We can't be separated from the forest. Because our place is in the forest and near the rivers, from our ancestors and generations before us," Achai told Malaysiakini.

---

READ MORE: Will solar power shine a light on Orang Asli villagers left behind?

---

It appears that the Segamat villagers are not the only ones facing this predicament, as Achai revealed that the Orang Asli community in Mersing and Kluang were served with the same notices on the same day. He lambasted the Land and District office, saying it was tactless of them not holding discussions with the villages' tok batin (village chiefs) before issuing the notice.

GrayPanther0439 : The orang asli are a nuisance. How dare they challenge the tuans

Tembikai : Worse case of land grabbing. Instead of putting the land as sultanate land, amend the Aboriginal Peoples Act 1954 (Act 134) so that the government could not interfere and take away the Orang Asli land.

Orang Asli land should be permanent for Orang Asli. PH government should show good example that they are truly the rakyat's government and do something fast for the Orang Asli. How long more do we have to wait.

Demi Rakyat : Just a wayang kulit so that people will say that its better to convert to sultanate land so that this will not happen. Political deceit? Don't be taken in. NO to converting their land to sultanate land.
Read it all here......
posted by Major D Swami (Retired) @ 3:05 PM


ARCHIVES
Previous Post
Indian Soldiers
World War 1
Links To Rangers
Military Related Links
End of a Saracen
East Malaysian
Warriors
Blow Pipe
xxxx
xxxx
Lieutenant Colonel
Zulkapli Abdul Rahman
Click Here
Lieutenant Colonel
Harbhajan Singh
Click Here
Heads from the Land
of the Head Hunters
Heads
20 Harrowing Images
Vietnam War
Creme De La Creme-Click here
Lt Col Idris Hassan
Royal Malay
Regiment
Click Here
Also Known as
General Half Track
Warriors
Dayak Warrior
Iban Tracker with
British Soldier
Showing the
British Trooper
what a jackfruit is!!
Iban Tracker
A British Trooper training
an Iban Tracker
Iban Tracker
Tracker explaining
to the British Soldier who
knows little about tracking
Iban Tracker
Explaining to the
British Trooper the meaning
of the marks on the leaf
Iban Tracker
Aussie admiring
Tracker's Tattoos
Lest We Forget Major Sabdin Ghani
Click Here
Captain Mohana Chandran
al Velayuthan (200402) SP
Ranger Bajau
ak Ladi PGB
Cpl Osman PGB
Advertistment
XXXXXXXX
Advertistment
XXXXXXXX
Advertistment
XXXXXXXX
Advertistment
XXXXXXXX
Advertistment
XXXXXXXX
Advertistment
XXXXXXXX
Advertistment
XXXXXXXX
Advertistment
Advertistment
XXXXXXXX
Advertistment
XXXXXXXX
Advertistment
XXXXXXXX
Advertistment
XXXXXXXX
Advertistment
XXXXXXXX
Advertistment
XXXXXXXX
Advertistment
XXXXXXXX
Advertistment
Advertistment
XXXXXXXX
Advertistment
XXXXXXXX
Advertistment
XXXXXXXX
Advertistment
XXXXXXXX
Advertistment
XXXXXXXX
Advertistment
XXXXXXXX
Advertistment
XXXXXXXX
Advertistment
XXXXXXXX
Advertistment
XXXXXXXX
Powered by