Fighting Seventh
Me
Miscellaneous
No Atheists
In A Foxhole
"When you're left wounded on

Afganistan's plains and

the women come out to cut up what remains,

Just roll to your rifle

and blow out your brains,

And go to your God like a soldier"


"We are not retreating. We are advancing in another direction."

"It is fatal to enter any war without the will to win it."

"Old soldiers never die; they just fade away.

"The soldier, above all other people, prays for peace,

for he must suffer and be the deepest wounds and scars of war."


"May God have mercy upon my enemies, because I won't ."
"The object of war is not to die for your country but to make the other bastard die for his.

"Nobody ever defended anything successfully, there is only attack and attack and attack some more.

"Fixed fortifications are a monument to the stupidity of man."
"It is foolish and wrong to mourn the men who died.
Rather we should thank God that such men lived.


The Soldier stood and faced God
Which must always come to pass
He hoped his shoes were shining
Just as bright as his brass
"Step forward you Soldier,
How shall I deal with you?


Have you always turned the other cheek?


To My Church have you been true?"


"No, Lord, I guess I ain't


Because those of us who carry guns


Can't always be a saint."


I've had to work on Sundays

And at times my talk was tough,

And sometimes I've been violent,

Because the world is awfully rough.

But, I never took a penny

That wasn't mine to keep.

Though I worked a lot of overtime

When the bills got just too steep,


The Soldier squared his shoulders and said

And I never passed a cry for help

Though at times I shook with fear,

And sometimes, God forgive me,

I've wept unmanly tears.

I know I don't deserve a place

Among the people here.


They never wanted me around


Except to calm their fears.


If you've a place for me here,


Lord, It needn't be so grand,


I never expected or had too much,


But if you don't, I'll understand."


There was silence all around the throne

Where the saints had often trod

As the Soldier waited quietly,

For the judgment of his God.

"Step forward now, you Soldier,

You've borne your burden well.

Walk peacefully on Heaven's streets,

You've done your time in Hell."


Local Socio
Political Bloggers
Sites of Interest
Glorious
Malaysian Food
Foreign Bloggers
&
Other Stuff
Gaming
Warriors
Warriors
Warriors
>
Brothers
>
<
Buddy
Continue here..........
Buddy
Tracker
A Cry
Assault
Boots
Advertistment
xxxx
Advertistment
xxxx
Advertistment
xxxx
Advertistment
xxxx
Advertistment
xxxx
Advertistment
xxxx
Advertistment
xxxx
Advertistment
XXXXXXXX
Advertistment
Arab Muslims are People of Color, Arab Christians are White By Daniel Greenfield
Friday, September 25, 2020
Walter Duranty's New York Times





Jihad Watch : What the New York Times' racial list says about the persecution of Christians.

Maintaining its proud commitment to printing all the news that will divide Americans by race, sex, and creed, the New York Times published a list of what it claimed were the "922 of the most powerful people in America" while claiming that only 20% of them are people of color.

The term "people of color" is already ambiguous enough with white professors, grad students, and NAACP presidents claiming to be black. But the New York Times' racial list, a thing reeking of Nuremberg and Goebbels, put the paper in charge of deciding who is a person of color by marking them with yellow. It's a good thing no notorious racist ideology had the same idea.

(The Times had previously published a list of members of Congress who had voted against aiding Iran's nuclear ambitions and terrorist regime by marking Jewish members in yellow.)

Like all racist Rohrsarch charts, the Times' racial list says more about it than about America.

Read it all here..................
posted by Major D Swami (Retired) @ 9:37 AM


Pakistan: Muslim beats, rapes 6-year-old Christian girl, threatens to rape her again if parents continue court case
Tabitha
Jihad Watch : Even worse, the family is unlikely to get justice in a Pakistani court. This is just another instance in the ongoing persecution of Christians in Pakistan, which receives scant notice internationally, because it doesn't fit the mainstream narrative.
"Muslim paedophile and his friends threaten to re-rape Christian child of 6 yrs and her sisters if parents continue court case," British Pakistani Christian Association, September 16, 2020:
A Christian 6 year old girl was beaten and raped after being forcibly taken to the home of a Muslim rapist in broad daylight. In a sickening twist the local Muslim community are threatening the Christian parents with violence, the rape of their other daughters and financial ruin if they proceed with a legal case against paedophile Muhammad Waqas (18 yrs).
Tabitha had just returned home from school at around 1.30 when she was struck with a strong desire for some sweets. She had some money left over from her school dinner money and travelled to the market stalls on her road to get some. While there she played with some of her friends for a while taking advantage of her early end to school (1.30pm) due to December exams. However by 3pm when she had not returned home her father Munir Balli Masih (44 yrs) became quite anxious. Munir finishes work as a sanitary worker for Military Engineering Services in Cant Lahore early in the day and then cares for his children who return from school a short while later. At around 3pm Munir began a search on the streets for his daughter but could not find her and other children did not know where she was.
Read it all here.........
posted by Major D Swami (Retired) @ 9:22 AM


Gravitas Live With Palki Sharma Upadhyay
The secret of freedom lies in educating people, whereas the secret of tyranny is in keeping them ignorant - Maximilien Robespierre
posted by Major D Swami (Retired) @ 8:49 AM


Pro-Sharia anti-Semite Linda Sarsour spotted at Louisville Breonna Taylor riots
Thursday, September 24, 2020
Linda Sarsour
Jihad Watch : Leftist/Islamic alliance in action.
As far back as September 22, 2011, Sarsour tweeted: "shariah law is reasonable and once u read into the details it makes a lot of sense. People just know the basics." Her position didn't change over time. On May 12, 2015, she tweeted: "If you are still paying interest than Sharia Law hasn't taken over America. #justsaying." And on April 10, 2016, Sarsour tweeted about Sharia again: "Sharia Law is misunderstood & has been pushed as some evil Muslim agenda."Sarsour tweeted on March 8, 2011: "Brigitte Gabriel = Ayaan Hirsi Ali. She's asking 4 an a$$ whippin'. I wish I could take their vaginas away – they don't deserve to be women." This call for physical violence against someone she hates received no notice among her sycophants on the Left.Linda Sarsour is also an energetic purveyor of the "Islamophobia" myth and has hysterically claimed that "Muslim kids" are being "executed" in the United States. She was instrumental in prevailing upon New York Mayor Bill de Blasio to end legal and necessary surveillance in Muslim communities in New York. She was also a frequent visitor to the Obama White House, and even claimed that the jihad underwear bomber was a CIA agent — part of what she claims is a U.S. war against Islam.
Sarsour is a practiced exploiter of the "hate" smear against foes of jihad terror and Islamic supremacism and has never apologized for using the Islamic honor murder of Shaima Alawadi to spread lies about the prevalence of hate crimes against Muslims in America. She is also an enthusiastic supporter of the "Palestinian" jihad against Israel and has even claimed that feminists cannot and must not support Israel.
But this is the Left today. Sarsour's anti-Semitism, her embrace of Sharia, her paranoid "Islamophobia" conspiracy-mongering – all that is the mainstream Left now.
(Thanks to the Geller Report.)
posted by Major D Swami (Retired) @ 11:00 PM


Why did Trump dodge questions on a peaceful transfer of power?
Former White House press secretary Sarah Sanders discusses the latest 2020 election issues. For four years the Demonrats have not accepted the 2016 election. Does anyone believe this election ends peacefully?? We won't accept cheating, and they will not accept losing.
posted by Major D Swami (Retired) @ 10:17 PM


The Catholic Connection - Slow Joe Biden
Biden is a Catholic, like Judas was an Apostle.
Communism and Marxism are Anti-Christ by Nature and Dogma . Let that sink in .
posted by Major D Swami (Retired) @ 10:03 PM


Catholic priest stabbed to death in Italy by Tunisian with "Mental Health" Problems
Pope Francis has publicly prayed for the repose of the soul of an Italian priest who was stabbed to death by a homeless man on Tuesday morning. 51-year-old Father Roberto Malgesini was well known in the northern Italian city of Como for his work helping immigrants and the homeless. His alleged killer, a Tunisian man with mental health problems, turned himself in to the police after the attack.
posted by Major D Swami (Retired) @ 8:25 PM


Taiwan warns China to 'back off' after military planes enter Taiwan's air defence zone
Tensions between China and Taiwan have hit a high not seen in years. Most recently, Chinese warplanes crossed the median line, the narrow strait separating the two sides, over the past week.
That's according to Taiwan's President, Tsai Ing-wen. The United States plays a role in all this, as Taiwan's main supporter. The Trump administration plans to sell Taiwan billions of dollars in weapons, from missiles to surveillance drones in order to shore up its defenses against any potential attack by Beijing.
Taiwan is a democracy with a separate government, but President Xi Jinping considers it a part of his People's Republic of China.
posted by Major D Swami (Retired) @ 7:54 PM


Why did so many Muslims fight for Germany in WW2?
A simple case of "the enemy of my enemy is my friend"
posted by Major D Swami (Retired) @ 7:50 PM


Lahad Datu incursion: Stop propagandising the armed forces - Commander S THAYAPARAN (Retired) Royal Malaysian Navy
Mortars in action

Malaysiakini : "It is the same in all wars; the soldiers do the fighting, the journalists do the shouting, and no true patriot ever gets near a front-line trench, except on the briefest of propaganda tours." - George Orwell
COMMENT Warisan MP Mohamaddin Ketapi's alleged insult of the state security apparatus is just another footnote in the history of the propagandising and manipulation of the state security apparatus by the political apparatus of this country.
The howls of outrage from folks who claim that they are shocked that a political operative would "insult" the hardworking men and women of the state security apparatus is indicative of the hypocrisy that permeates the political landscape here and around the world.
I despise the use of the state security apparatus as just another tool in the propaganda toolbox of political operatives and civilians who, when politically convenient, either canonise or demonise the men and women who serve the state often at the costs to their lives.
I do not have a romanticised view of service to the country, coming from the school of thought that believes that professional service in the defence of the realm for coin while a noble profession is not one that should be glorified. This is because, ultimately, the profession is bound by political and not altruistic dictates.
Of course, what the Warisan MP said was dumb, but this idea that politics and the security forces are mutually exclusive is complete horse manure. Take the Lahad Datu remarks, for instance. Even former prime minister Najib Abdul Razak got into the outrage act. He wrote in a Facebook post:
"Ini ialah penghinaan sangat besar pada pasukan keselamatan kita yang bertarung nyawa untuk mempertahankan kedaulatan kita, terutama kepada keluarga 10 wira dan 6 warga Sabah yang terkorban."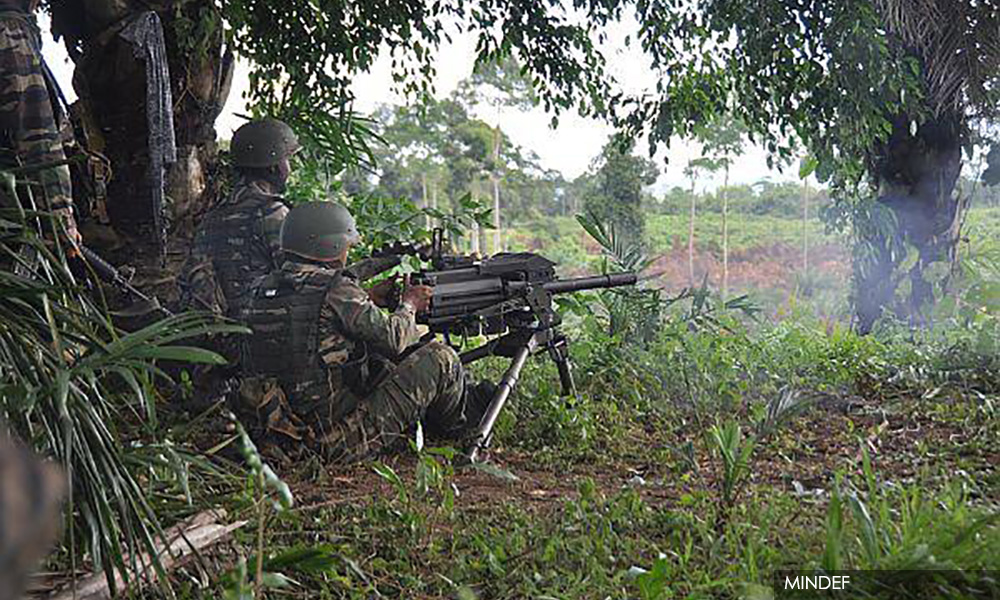 Automatic 40 mm Grenade Launchers in Action
posted by Major D Swami (Retired) @ 5:03 PM


Battle for Christian Civilization
They're already attempting it in Australia it's a gun free country by force and right now they are in total lockdown and it's 100% police state right now so they're having a bad time and there's a lot of Marxist influence in that country right now so you know where it's headed to Communist China type program in Australia pray for them as well.
Hungary and Poland where Christ is King support Trump for President.
We are at War, the Satan always fights the Hardest when He is loosing. Holy Spirit please cause Satan and his family to Fail, crush the serpent. Vivat Jesus.
posted by Major D Swami (Retired) @ 4:49 PM


China grabs Nepal's land
China has grabbed Nepal's land. It has built 11 buildings on Nepalese territory. Wasn't Kathmandu supposed to be Beijing's friend?
posted by Major D Swami (Retired) @ 9:34 AM


India: Muslim mob attacks Hindu procession, many Hindus injured
Lord Vishwakarma

Jihad Watch :"Golu Khelani said that when he approached the police with a complaint, at first, they were reluctant to register a case against the Muslim goons."

Of course. Because they know that prosecuting the offenders will be considered "Islamophobic" and used as a pretext by later Muslim rage mobs.


"Bihar: Hindu group attacked by Mohammed Nirala, Sarfaraz and others as Vishwakarma idol procession passes through Muslim colony," OpIndia, September 19, 2020:
An irate Muslim mob attacked a group of 10-15 Hindu devotees when a Vishwakarma idol immersion procession was passing through a Muslim dominated locality in Motihari, Bihar. In an incident that took place on September 18, in the Tarnia village, Motihari block, Bihar, Muslim goons attacked the Hindu group with lathis and bamboos. Several people were injured and the Lord Vishwakarma idol was also reportedly damaged in the ensuing.

To know more about the incident, OpIndia got in touch with the President of Chatia Subdivision of Bajrang Dal, Golu Khelani. He confirmed that around 4 pm on Friday (September 18) evening, some Hindu youths were going to immerse the idol of Lord Vishwakarma. When the procession approached a locality which was predominantly Muslim dominated, the driver of the vehicle carrying the idol stopped and alerted the Hindu youths. He was reluctant to pass through the Muslim locality. The Hindu group was also threatened by the Muslim goons to not enter their locality with the idol. But the Hindu youths did not take the warnings seriously.

Driver of the vehicle carrying the idol brutally assaulted

As soon as they entered the locality, the Muslim goons started raining lathis and sticks at the Hindus. The vehicle in which the idol was being carried was stopped and attacked. The agitated Muslim goons pulled out the Dalit driver, Sukhari Ram, snatched the keys from him and mercilessly assaulted him. The goons then climbed the vehicle and damaged the Lord Vishwakarma idol placed in it.

Many Hindus were injured in the clash. The Bajrang Dal activist confirmed that three Muslim youths namely, Mohammed Nirala, Danish and Sarfaraz were the main accused who started the brawl.

Golu Khelani said that when he approached the police with a complaint, at first, they were reluctant to register a case against the Muslim goons. Later, the police filed an FIR against both the Hindu and Muslim groups, despite the fact that the Hindus were not at fault, said the Bajrang Dal activist.
posted by Major D Swami (Retired) @ 8:55 AM


Former CNN Host Reza Aslan Threatens to 'Burn the Entire F***ing Thing Down'
The piece of shit aka Reza Aslan



Jihad Watch : My latest in PJ Media is a VIP article. I am happy to be able to offer you a 5% discount on becoming a VIP member at PJ Media. Just enter the code SPENCER when you sign up here.

Why hasn't Reza Aslan been arrested?

Here is yet more evidence of the two-tier justice system in the United States today. I've been warning about Reza Aslan for years. Now he is openly calling for sedition and violence. "If they even TRY to replace RBG we burn the entire fucking thing down," he wrote after the death of Supreme Court Justice Ruth Bader Ginsburg. But he won't suffer any consequences, because he is a leftist.

There is much, much more. Read the rest here.
posted by Major D Swami (Retired) @ 8:46 AM


After the Uighur Muslims in Xinjiang, China targets Tibetans
Wednesday, September 23, 2020
China is implementing its Xinjiang playbook in Tibet. According to a report, Tibetans are being forced into 'military styled' indoctrination camps.
China is infamous for cultural genocide wiping out Uighur culture, Tibetan culture, Mongolian culture and Hong Kong Cantonese culture. They want to do the same thing in Mongolia and forcing the people of Mongolia to learn Chinese language.
This is a travesty and atrocity! It is all too obvious that the leaders of China are working directly under Satan; the adversary of the people of the world.
posted by Major D Swami (Retired) @ 4:04 PM


China and Taiwan media war - Chinese troops tear up singing military songs
A video of Chinese soldiers on their way to the disputed border with India went viral. In the video, the young recruits were seen crying and singing a Chinese military song called 'Green Flowers in the Army'. Taiwanese media mocked the Chinese army over the video, implying that the emotional outburst was a sign of fear.
They have a reason for crying. Their families won't even know if they die. To me its pretty clear these soldiers by their expression they are forced against their will to be deployed to the China-India border. Lame excuses by the CCP is getting worse by the day.
Remember the PLA does not fight for China, they fight for the CCP. They are just the armed branch of the party, it is stated in the Constitution.
posted by Major D Swami (Retired) @ 3:49 PM


Chinese virologist Li-Meng Yan speaks to WION's Palki Sharma Upadhyay - Wuhan Whistleblower
Watch the exclusive interview with Chinese virologist Dr Li-Meng Yan.
I love the tradition and people of China but I don't like the government. Virus was CCP Chinese made. We are not really surprised anymore. And Chinese Vaccines for the virus. It's all about business + control and CCP Chinese Dominance!
CCP China can't even do a coverup efficiently, only intimidate!!
posted by Major D Swami (Retired) @ 2:14 PM


Stone-Cold Killer - Ruth Gader Ginsburg
Happy for her, that her wishes were granted, currently residing with Satan.
I would like to think that her death would save millions of others. She's a disgrace!!! And yet SO many "Catholic influencers" once again tripped all over themselves to post tributes to this murderer and to show how "woke" they are. Give me a break. Your words are a harsh but needed truth for these days.

I pray that her death and legacy would convict many of the atrocities of abortion. Making a mistake ( unplanned pregnancy leading to an ill thought out decision for an abortion) and asking God's forgiveness is one thing, but those that promote and profit from this abominable industry is quite another and I pray those on the wrong side would repent and turn before they as well suffer the wrath of God and hear "WOE". To God be the glory.

Praise God Hallelujah Amen
We need more of this raw truth to awaken those millions deceived by liberals which include many priests!
posted by Major D Swami (Retired) @ 1:56 PM


China threatens 3 more countries
Tuesday, September 22, 2020
After engaging India at Ladakh, China is now threatening 3 more countries - The United States, Australia and Taiwan. What if all these countries choose to retaliate against China together?
posted by Major D Swami (Retired) @ 4:51 PM


Al-Ma'unah - a cult that raided an army base 20 years ago - The real heroes of Sauk - 9th Rangers
Monday, September 21, 2020
Please take note, that Wikipedia, does not mention this hero at all.The Commanding Officer at that time was Lieutenant Colonel Stephen Mundaw who has already left service as a Lieutenant General (3 Star General). Final orders were given for a Battalion Assault. Notice East Malaysians involved, one of them Corporal Matthew Medan was killed.
There was a plan to conduct a Battalion sized assault to kill/destroy all on the location.
Orders were already dished out. Battle Procedure was already done. Ammo and grenades distributed, the 81 mm Mortars knew exactly where to deploy, which Companies were to be the left and right assault companies, which to be in depth and which company was to be held in reserve. Rehearsals done. A fire plan was made for the mortars, all of them were raring to go. This was what they were training for, to destroy enemies who waged war on the King and country, that's what soldiers train for!
They had already killed a Police Sergeant and an Army Commando, both were Non Muslims. Then disappointment. The higher ups told them to stand down, guess, they realized that all their people would be killed, that's why they sent all the fake heroes to continue with the charade to save them. They were freed for good behavior that takes the cake, tell that to the victim's, parents wives and children of these terrorists.
Malaysiakini the Leftist Rag removed my comments here...........



Malaysiakini

:

How could a ragtag group take over an army camp?



On July 2, 2000 a little-known group calling themselves the Persaudaraan Ilmu Dalam Al-Ma'unah (Brotherhood of Inner Power) shocked the nation when they carried out a daring raid on a Malaysian Army Reserve camp in Gerik, Perak.
Read it all here, subscription required............
posted by Major D Swami (Retired) @ 11:59 PM


Having faith in corruption in Malaysia - Commander S THAYAPARAN (Retired) Royal Malaysian Navy
Malaysiakini : "Each time if I have university matters to deal with when I went home, my Malay friends and I who also live on the plantation would have to go to the nearest housing area at Taman Kelisa Ria, about 5km from here. That was where we could get internet access." - V Barathidasa

COMMENT | Of late, social media has been awash with news stories of how some people live in this country. Whether it was the story of the student who had to take her exam on top of a tree or residents of a plantation with their improvised modem, the main theme running through all these stories is how the political system has failed them.

Also in the news are the ongoing corruption cases of political personalities and how they solicited bribes amounting to millions, paid bloggers to spruce up their reputations. And generally, how they allegedly used taxpayers' money to live lifestyles that are disgusting when you think of how the B40 group and others have to live in this country.
Corruption is one thing, but I have always said that religious extremism is the existential threat of this country. Here is the thing, though. Corruption and religious extremism are not mutually exclusive in this country.
During the movement control order, I wrote about a friend of mine who was so incensed that the government could steal so much money, but could not provide – at that time – free masks. He had said: "People are more interested in praying than seeing that the religious authorities help the rakyat."
This is the time when our religious leaders should be handing out face masks and hand sanitisers, and giving people proper information, he said in his stark Terengganu accent. "We have the money, Pakcik. See, they stole so much so, of course, there is money," he added. It sounds so simple when my friend puts it that way. This same friend was livid when he read about all this money from the corruption cases. Again in his stark Terengganu accent, he thundered late one night to a group of us (while I hastily scribbled down his comments ) "…what were they doing with all this money? They said it was for charity, but where did it all go?" Read it all here..........
posted by Major D Swami (Retired) @ 11:47 AM


Virginia: Christian persecution conference spotlights genocide in Nigeria
Sunday, September 20, 2020
Bishop Oliver Dashe Doeme of Nigeria
Jihad Watch : A recent Saints Peter and Paul Conference (mostly via video) entitled "Christian Persecution Is Real," took place at the Basilica of St. Mary in Alexandria, Virginia.
The truth of this persecution that remains largely ignored was highlighted and discussed in order to raise awareness and support. One of the speakers was Shakeel Raphael, who
"projected an image of his brother Nadeem Samson on the screen, prison bars superimposed over the man's sorrowful face. Three years ago, Samson, a Christian, was arrested and, Raphael believes, falsely charged with blasphemy — the crime of speaking out against Islam, the Prophet Muhammad or the Quran. He was beaten to near death and has been locked in a prison in Lahore, Pakistan ever since."

Such practices should be intolerable to Western nations that claim to support and defend human rights, but they do little or nothing in response. It should be unacceptable any human being could be mercilessly beaten, or murdered for the supposed sin of offending a religion's prophet, but it isn't. Instead, we keep hearing that "the majority of Muslims are peaceful." Yes. So were the majority of Germans during the Nazi era.

In the West, which is in the position to help persecuted Christians, "Islamophobia" has become the buzzword that silences dissent. Westerners have allowed that same Sharia principle responsible for Christian persecution to enter their countries. According to Sharia, one must not criticize Muhammad without punishment. In the West, there are already social punishments levied against those who offend Islam, established via Muslim Brotherhood-linked groups which have worked tirelessly with "anti-racism" groups to perpetuate a victimhood narrative. While Westerners mourn a myriad of historical wrongs such as slavery in America, a grave wrong is happening now. Jihadists are carrying out a Christian genocide in Africa and the Middle East.

Kudos to the Saints Peter and Paul Conference organizers. The overwhelming majority of cases of Christian persecution are in Islamic countries and the subjugation of Christians is sanctioned in normative Islam (cf. Qur'an 9:29), all while Westerners conduct comfortable politically correct debates about "Islamophobia" and Islam as a religion of peace. "Christian persecution at all-time high, say experts at Alexandria conference," by Zoey Maraist, Catholic Herald, September 16, 2020:
Read it all here...........
posted by Major D Swami (Retired) @ 11:05 PM


MALAYSIA'S George Cross recipient, Awang anak Raweng has passed away at the age of 104 years
Awang Anak Raweh with his two sons


During operations against the bandits in Malaya a section of a platoon of the Worcestersbire Regiment was ambushed by about 50 of the enemy. The leading scout was killed instantly and the Section Commander fatally wounded. Awang anak Rawang was hit through the thigh bone and at the same time a soldier, moving behind him, was hit below the knee, the bullet completely shattering the bone.
Awang anak Rawang. although wounded and lying exposed under heavy rifle and automatic fire, collected his own weapons and that of the soldier and dragged him into the cover of the jungle. In view of the impending bandit attack Awaug. completely disregarding his own wound, took up a position to defend the injured man. There he remained, firing on every attempt made by the bandits to approach, and successfully drove off several attacks.

Ultimately Awang was again wounded, the bullet shattering his right arm and rendering further use of his rifle or parang impossible. Despite loss of blood from his undressed wounds, be dragged himself over to the wounded soldier and took a grenade from the man s pouch. He resumed his position on guard, pulled out the pin of the grenade with his teeth and with the missile in his left band defied the bandits to approach.

So resolute was his demeanour that the bandits, who had maintained their attacks for some forty minutes, and who were now threatened by the other sections, withdrew. The coolness, fortitude and offensive spirit displayed by Awang anak Rawang were of the highest order. Despite being twice severely wounded he showed the utmost courage and resolution to continue the fight and protect the injured soldier. 1.3 Worcestershire Regimental History records the following action:

On 26th May 1951, 12 Platoon, D Company (2/Lieut. W. O. Morris, R.A.O.C. att. 1 Worc. R.) were encamped in some rubber on Ulu Paloh Estate, three miles West of Niyor. At about 1530 hours one of the platoon sentries was fired on by a party of eight terrorists. The sentry returned the fire and the terrorists withdrew in a North-Westerly direction. The Platoon Commander then took two sections in pursuit of the terrorists, but after making a wide circling movement through the jungle could find no trace of the enemy and returned to base.

The following morning (27th May) the Platoon Commander, with two sections, set out once more in search of the enemy. They moved due West into the jungle and followed a narrow track, which had jungle on the left and felled jungle on the high ground to the right. The track was used by woodcutters who were engaged in cutting the jungle further back, Having moved about a quarter of a mile into the jungle, the leading section came under very heavy automatic fire from the front and left flank.
Read it all here.................
posted by Major D Swami (Retired) @ 10:50 PM


Nigeria's president: Trump "looked at me in the face. He said 'why are you killing Christians?'"
The Genocidal President of Nigeria with President Donald Trump





Jihad Watch : Nigeria ranks 12th in the Open Doors USA World Watch List of the worst countries for Christian persecution.
Fulani jihadists and the Boko Haram jihad group brutalize and slaughter Christians on a routine basis.
For some odd reason, Buhari — himself a Fulani and a Muslim — decided to be honest about what transpired between him and Trump.
"I was in his office, only myself and himself. Only God is my witness. He looked at me in the face. He said 'Why are you killing Christians?'"
Buhari explained: "I tried and explained to him this has got nothing to do with ethnicity or religion. It is a cultural thing which the respective leadership was failing the nation."

This is disingenuous. Nigeria has been termed the "biggest killing ground of Christians in the world." Anglican Archbishop Benjamin Argak Kwashi of Jos said: "This thing is systematic. It is planned; it is calculated…. their intention is to Islamize Nigeria."

Although Buhari openly condemns Boko Haram and Fulani jihadist attacks on Christians, he has done little to stop them.

In February, the Trump Administration launched the first-ever International Religious Freedom Alliance, which 26 countries joined: Albania, Austria, Bosnia and Herzegovina, Brazil, Bulgaria, Colombia, Croatia, Czech Republic, Estonia, The Gambia, Georgia, Greece, Hungary, Israel, Kosovo, Latvia, Lithuania, Malta, the Netherlands, Poland, Senegal, Slovakia, Slovenia, Togo, Ukraine, and the United Kingdom.

Let's hope more practical efforts are made to help Christians who are suffering persecution in Nigeria and elsewhere. Western countries need to be stop aid to countries that aid and abet persecution against Christians and other religious minorities. "Buhari: Trump Accused Me of Killing Christians in Nigeria," by Omololu Ogunmade, This Day, September 8, 2020:
Read it all here..................
posted by Major D Swami (Retired) @ 8:45 AM


TANKS IN HIGH ALTITUDES | BLITZKRIEG With Major Gaurav Arya
posted by Major D Swami (Retired) @ 8:30 AM


Erdogan's quest for Islamic domination
Recep Tayyip Erdogan has been in power for 17 years, he now wants to dominate the Islamic world. How far will he go? On Gravitas Plus Palki Sharma decodes Erdogan's Ottoman dream.
The title should be " Erdogan's lust for islamic domination". Mr.Erdogan is being haunted by the past glory and wishes to be the Sultan of Asia.
The title should have been "the ottoman hangover"
posted by Major D Swami (Retired) @ 8:25 AM


U.S-Taiwan alliance rattles China
At least 18 Chinese aircraft crossed the Taiwan Strait on Friday. The PLA is planning to launch combat exercises near Taiwan's coast. Japan & U.S. have extended their support to Tsai Ing-wen
posted by Major D Swami (Retired) @ 8:16 AM


Leftists GO APESHIT Over the death of pro abortion Ruth Bader Ginsburg
These people are seriously delusional. Every single thing that happens is "the worst thing that's happened to them since nov. 2016".
Frantic Feminist: Can 2020 get any Worse! Reality: Trump Wins 4 More Years. Alot of people are preparing and practicing their rape accusations. They don't know quite yet for who. And the media is dusting off Russia collusion accusations...
So it's not ok for Barrett to be religious but they're fine Omar and Talib. Absolute hypocrasy.
posted by Major D Swami (Retired) @ 8:00 AM


Kit Siang shocked Sabah Umno chief Dung Moktar Radin objects to 'In God we trust' slogan
Friday, September 18, 2020
Malaysiakini :

SABAH POLLS

| DAP veteran Lim Kit Siang said he is shocked that Sabah Umno chief Bung Moktar Radin had objected to Warisan's "In God we trust, unite we must" slogan.
Bung reportedly said that "in God we trust" was too synonymous with the Philippines which has repeatedly laid claim to Sabah.
"In the Philippines, 'in God we trust' is among the phrases synonymous with them. One of the villages there has that same phrase on their gateway.
"Why is Warisan copying that when we know the Philippines wants to claim Sabah?" Bung was quoted as saying by Utusan Borneo on Tuesday.
Lim said the Sabah Umno chief's objection was tragic, especially since the country is marking 50 years of the Rukun Negara.
Read it all here............
posted by Major D Swami (Retired) @ 8:13 PM


Guan Eng had no power but still feared by the Malays - Commander S THAYAPARAN (Retired) Royal Malaysian Navy
Thursday, September 17, 2020
MI23837981233 : "This One Man Alone Will Bring Down This Nation" - Tengku Abdul Rahman
Lim Guan Eng
Malaysiakini : "So, how come he is said to be the one with the power? He had no power."
- Former prime minister Dr Mahathir Mohamad
COMMENT

| Former prime minister Dr Mahathir Mohamad's interview with Malaysiakini was a train wreck for Pakatan Harapan. At this point, I have no idea which base the old maverick is attempting to appeal to. Are the Malays supposed to be happy at the expense of Chinese dissatisfaction?
The former prime minister's description of how he castrated the finance minister's role to ensure that the "Malay" base would not be spooked, is the kind of lesson in Malay uber alles politics that Harapan, or whatever is left of it, should pay attention to the next time it decides to hook up with a race-based party.
One the one hand, we had a castrated finance minister who had to run everything through Mahathir and on the other, we are supposed to believe that the old maverick encouraged discourse, and I suppose, dissenting viewpoints in cabinet meetings. In other words, all these discussions meant bupkis and ultimately like the finance minister's portfolio, everyone was bending the knee to the old maverick.

The former prime minister said: "We still have to give them, but what we gave to them was very small (compared to what the Malays got). But we could not say it then because then the Chinese would be angry. "That's why we didn't talk about that. But now we have to because I have to explain this thing."
Read it all here............
posted by Major D Swami (Retired) @ 2:10 PM


Malaysia Day 16th September 1963 - I remember it as the Indonesian Confrontation, the Reneging of the MA63 Agreement and the Formation of the Malaysian Rangers
Wednesday, September 16, 2020
The Rangers was formed on this day 57 years
Not forgetting, the reneging on the 20 Point Agreement for Sabah and 18 Point Agreement for Sarawak, as stipulated in the formation of Malaysia.
The plundering of the resources of Sabah and Sarawak by the federal Government. It makes you ponder, whether they are being treated like the East Timorese or the Papuans in Indonesia, exploited of their resources.
The Indonesian Confrontation - Read it all here...........The Undeclared War in Malaysia.
Anti-Indonesian infiltration into Malaysia demonstration by a group of Malay women in 1965. The banner reads "Our womenfolk are ready to defend Malaysia. Long live Tunku! Destroy Sukarno!" Conveniently left out of our history books by Mamakthir

Kalabakan, the untold story...... There were two defensive positions at Kalabakan. On the bank of the river running into Cowie Harbour stood the police station, fortified with sandbags and barbed wire and manned by fifteen policemen. Four hundred yards away, a platoon and two sections of the Royal Malay Regiment, under their Company Commander occupied two huts.
Although trenches had been dug nearby, the huts themselves were not fortified in any way. After dark that evening, the unsuspecting Malay soldiers were engaged in domestic activities, washing and cleaning clothes and equipment. Their sentries were not alert. At two o'clock in the morning Walker's telephone rang and the duty officer at his headquarters told him that Kalabakan had been attacked and had fallen.
The attack had been launched just before eleven o'clock. An assault group had crept up to the Malays, flung grenades through the windows and opened automatic fire. Before the Malays could reach their weapons, eight had been killed, including the company commander, and nineteen wounded.
More here.................
Captured Indonesian Commandos

Indonesian Commandos captured invading Malaysia, conveniently forgotten by the UMNO Government, under Mahathir.
More pics here................
posted by Major D Swami (Retired) @ 11:59 PM


Malaysia Day - 16th September, Do NOT forget that the Indons tried to destroy us - Happy Malaysia Day!!!
This confrontation arose from the disagreement of Indonesia on the formation of Malaysia which comprise of British North Borneo, Sarawak, Singapore and Malaya.
Troops from Australia, New Zealand and Britain were stationed on the border between the newly formed Malaysia Borneo and Kalimantan, Indonesia.
Read all the details here in 84 pages..............
posted by Major D Swami (Retired) @ 11:58 PM


The three 'traitors' By P Gunasegaram
Malaysiakini :

QUESTION TIME

| Take a good look at the three in the photo above - you know all of them. But let not time dim the great travesty that all three of them committed against the rakyat, becoming traitors to the collective will of Malaysians when they lied, cheated, and broke promises to engineer the downfall of a democratically elected government.
On May 9, 2018, a despicable decadent dictatorship headed by Najib Abdul Razak, the son of the second prime minister Abdul Razak Hussein, was overthrown by a motley coalition, Pakatan Harapan, whose leaders inexplicably and unaccountably allowed a previous despot and the master of patronage politics to become interim prime minister. It was an incredibly bad decision by all in the core coalition of PKR, DAP and Amanah to not only admit Bersatu - a racist party, headed by Dr Mahathir Mohamad - but to allow him to become PM.
When Umno's 61-year iron grip on the country, which progressively descended into corruption and decline from 1981 onwards after Mahathir became PM, was decisively broken, it was correctly heralded as a victory against authoritarianism, increasing corruption, total disregard of the rule of law, and the breakdown of transparency, accountability, and good governance. But the victory lay in shambles just 22 months later.
The first villain in this sorry episode in the nation's history is, of course, Mahathir, now ex-prime minister for the second time. But coming close behind him are Muhyiddin Yassin, now prime minister and Azmin Ali, now senior minister. If any one of them had not betrayed the rakyat, we would not have the current explosive political situation in the country.
Read it all here...........
posted by Major D Swami (Retired) @ 11:00 PM


The normalization of bigotry & intolerance by Dennis Ignatius
In the midst of a heated argument in Parliament on amendments to the Road Transport Act to toughen the penalties for alcohol-related traffic offences, PAS MP Nik Muhammad Zawawi Salleh managed to trigger a major controversy with a deeply offensive remark that the Bible had been "distorted."
To suggest that the sacred text of any religious group is distorted is to cast doubt on its very legitimacy. Such is the arrogance of the man that despite widespread protests, he has adamantly refused to apologize or withdraw his remarks.
On the surface of it, it might sound like the inane and insensitive remarks of a supercilious politician looking for cheap publicity but it is deeper than that, a symptom of a much greater malaise – the normalization of racism, the legitimization of bigotry, the trivialization of intolerance. It is part of a now established culture that permits the degradation of non-Malays and non-Muslims by reducing them to inferior status, mere "pendatang" unworthy of equal citizenship, kafirs to be excluded from senior positions, adversaries to be contained, followers of flawed religions to be mocked.
If they are not Christian evangelists out to undermine Islam, they are LTTE or communist sympathizers. If they are not busily working to divide the country, they are working with Israel to undermine the nation's sovereignty. Each new slur adds to the corpus of disinformation and deceit that further stigmatizes ethnic minorities and justifies their mistreatment.
Increasingly, non-Malays and non-Muslims are seen as inconvenient, problematic, the unwanted detritus of history that tarnishes the 'Malayness' of the land and diminishes its Islamic character.
Read it all here...................
posted by Major D Swami (Retired) @ 10:45 PM


Proof of Pakistan's terror sponsorship: Why the FATF must blacklist Pakistan
Tuesday, September 15, 2020
Ahead of FATF's review, A WION investigation has revealed how: + Masood Azhar runs his terror operations, despite UNSC sanctions + How Hafiz Saeed's son freely moves around Pakistan + How a Jaish leader threatened to 'destroy Indian Forces'
Pakistan has been responsible for terrorism for so many decades now, it should be common knowledge. Osama ben Laden was not "hiding' in Pakistan, the Paki Military was hiding him!!
Terrorism has no religion 🤣🤣🤣🤣
posted by Major D Swami (Retired) @ 11:56 PM


Wuhan virus made in lab? Chinese virologist has 'proof'
Chinese virologist Dr. Li-Meng Yan has claimed that she has proof that the Coronavirus came from a government lab in Wuhan.
Nothing suprising. Everyone knows that China has a hand in this virus. China can't handle defeat. This was most probably a Revenge attack because US banned US companies from doing business with Huawei back in 2019. Judging by China's actions, it can be said, not only is it man-made in Wuhan, but an instrument of war.
The fact that the CCP is baiting Australia into a conflict for asking for an independent investigation into the Wuhan virus is a blatant signal that indeed the virus is man made.
posted by Major D Swami (Retired) @ 11:45 PM


Hindu India's History Purged By A Muslim Minister Of Education
Maulana Sayyid Abul Kalam Ghulam Muhiyuddin Ahmed bin Khairuddin Al-Hussaini Azad, he was the First Minister of Education for INDIA after Independence. Azad was born on 11 November 1888 in Makkah, then a part of the Ottoman Empire. His real name was Sayyid Ghulam Muhiyuddin Ahmed bin Khairuddin Al Hussaini, but he eventually became known as Maulana Abul Kalam Azad. Azad's father was a Bengali Muslim scholar of Afghan ancestry, who lived in Delhi with his maternal grandfather, as his father had died at a very young age. During the Indian Rebellion of 1857, he left India and settled in Mecca.
His father Maulana Sayyid Muhammad Khairuddin bin Ahmed Al Hussaini wrote twelve books, had thousands of disciples, and claimed noble ancestry, while his mother was Sheikha Alia bint Mohammad, the daughter of Sheikh Mohammad bin Zaher AlWatri, himself a reputed scholar from Medina who had a reputation that extended even outside of Arabia.
Read it all here..................
The Guardian : Sir Vidia, born in Trinidad of Indian parentage, who travelled extensively in the Muslim world for his books Among the Believers and Beyond Belief, launched his attack after a reading of his new book, Half a Life, at the Queen Elizabeth Hall in London. Islam, he claimed, had both enslaved and attempted to wipe out other cultures."It has had a calamitous effect on converted peoples.
To be converted you have to destroy your past, destroy your history. You have to stamp on it, you have to say 'my ancestral culture does not exist, it doesn't matter'." Sign up for Bookmarks: discover new books in our weekly email Read more Sir Vidia claimed what he called "this abolition of the self demanded by Muslims was worse than the similar colonial abolition of identity. It is much, much worse in fact... You cannot just say you came out of nothing." He argued that Pakistan was the living proof of the damage Islam could wreak.
"The story of Pakistan is a terror story actually. It started with a poet who thought that Muslims were so highly evolved that they should have a special place in India for themselves. "This wish to sift countries of unnecessary and irrelevant populations is terrible and this is exactly what happened in Pakistan."
The need to bury the truth was simply overwhelming as it exposes the Biggest Holocaust!!!.
posted by Major D Swami (Retired) @ 11:33 PM


Remembering Reverend Father Mari Arokiam, my priest, my buddy and friend, exactly 2 years he left us
He was a gem of a person. The soldiers in Batu 5 Camp, Mentakab, Pahang, Seventh Rangers (Mechanized Infantry) loved him. He blessed us all before our departure to Somalia, a very challenging task. We came back safely. With the exception of two soldiers who joined us later from KL. May he rest in peace with our Lord - Major D Swami (Retired)
Born : 09.10.58 Ordained : 08.09.92 Departed : 15.09.18 The life story of Fr Mari Arokiam. May his soul rest in peace and May the Lord welcome him home in his kingdom.🙏🙏 The ONE priest who was very different from others. We that have been touched by him, in our hearts he will remain with love and fondest memories.
Watch and listen to the challenges he faced taking this step to shepherd souls.
posted by Major D Swami (Retired) @ 6:00 AM


Archbishop Viganò hints God will deliver the election to President Trump
Monday, September 14, 2020
In a new interview, former apostolic nuncio to the United States Archbishop Carlo Maria Viganò hints that he believes God will see to it that President Donald Trump will be victorious in the November elections.
"I believe that this faith in God, which clearly must be matched by a consistency of Christian life and witness, will also confirm in the 2020 US presidential election that 'the Lord's right hand has done mighty things' as Psalm 117 reminds us," he writes.
They say they are Catholic because they want to get the Catholic vote, but you will know the tree by its fruits.
posted by Major D Swami (Retired) @ 11:57 PM


Full-On Resistance against the Corrupt Bishops and Clergy of the Catholic Church in the USA
Dear Bishop Callahan, I don't like to have to say shame on you for attacking Father Altman.
One of Gods 10 Commandments is "Thou shall not kill". So Bishop Callahan that includes killing helpless unborn babies by evil abortion. You know adoption is the real solution to evil abortion. Bishop Callahan abortion is the murder of a helpless baby period. I pray you stop being weak and bowing to liberal heretics in the Catholic Church.
Father Altman is speaking out for the unborn child who has no voice but ours. Please leave him alone. He's doing God's work which we all should be doing daily. And yes, I believe it's a sin to vote for people like Joe Biden and Nancy Pelosi who are fake heretic Catholics since they both support evil baby killing abortion as well as gay marriage. Please correct me if I am wrong. Now swallow your pride and tell Father Altman he can continue doing God's work. My dad always said it is never the wrong time to stand for the right thing.
I do not think you want devout Catholic Protestors showing up daily at your Diocese office or residents. Remember "God is more anxious to save us than we are to save ourselves, and he has given us all the means required to embrace him and abide in him unconditionally.
Only one thing is needed, our consent, which must be re-ratified every day, through every choice we make." ✝️ - Fulton Sheen - ✝️
posted by Major D Swami (Retired) @ 11:50 PM


The Battle of Kulikovo: Russian Liberation from the Muslim Horde
Sergey Prisekin's rendition of Kulikovo (1980)
Raymond Ibrahim : Today in history, on September 8, 1380, Russia began its long march to liberation from the Tatar yoke, by way of a battle that is as important to Russian history as the battles of Tours and Vienna are to the West.
Although pagan when they conquered Russia around 1240, by 1300 the Mongols were thoroughly Islamized. Arabic was adopted, "the entire Muslim religious establishment of qadis, muftis, and the like arose in Sarai, the Golden Horde's capital on the lower Volga," and "sharia, Muslim religious law," reigned supreme. "With this the Russo-Tatar conquest society entered the mainstream of Medieval Christian-Muslim frontier life," that is, it entered into a familiar paradigm of enmity and war, punctuated only by vast sums of gold and slaves flowing from Russia to the Horde.
In 1327, Uzbek Khan's cousin Shevkal—"the destroyer of Christianity," according to a Russian chronicle—asked a boon of his khan: "allow me to go to Rus to destroy their Christian faith, to kill their princes and to bring you their wives and children." Uzbek consented. At the head of a vast horde, Shevkal invaded Russia "with great haughtiness and violence. He inaugurated great persecution of the Christians, [using] force, pillage, torture, and abuse." Nor were Russians ignorant of the reason behind their (renewed) sufferings: everywhere in their chronicles "they appear as defenders of the faith battling to save Christianity from marauding infidels driven by religious animosity."
Moreover, "Mongol atrocities" are always recorded "as incidents in a continuous religious war." When the Golden Horde's infrastructure began to fracture from internal discord in 1359, the principality of Moscow (or Muscovy) began to defy its overlords. So Khan Mamai, seeking to squash the rebels and "impose Islam on the Russians," made for Moscow with, according to sources, some 100,000 Turco-Tatars in 1380. Boasting that they would put their swords "to the test for the Russian land and the Christian faith" against "the armor of the Moslems," the Russians accepted the challenge.
Under the general leadership of Grand Prince Dmitri Ivanovich of Moscow, some 50,000 Russians went out and met the khan at Kulikovo Field, near the Don River and other tributaries. The opposing armies were so vast as to be spread out over eight miles. The Christians strategically positioned themselves between rivers and dense forests, thereby limiting the Tatar horsemen's maneuvering and flanking abilities.
"I will neither protect my face nor hide in the rear, but let us all brothers fight together," Dmitri said in response to his nobles' pleas to stay out of harm's way: "I want to die for Christianity ahead of anyone else, with deed as well as word, so that all others who see it will become bold." (More practically, explained the grand prince, "it is better that we fall in battle than become slaves of these infidels.")
Once battle commenced on September 8, 1380—640 years ago today—"there was such a great massacre and bitter warfare and great noise, such as there never had been in Russian principalities," writes the chronicler; "blood flowed like a heavy rain and there were many killed on both sides." Although outnumbered two-to-one, the Russians, "seek[ing] revenge for Tatar offenses," fought with a savage fury. True to his word, Dmitri was seen at the front "striking to the right and to the left, killing many; he himself was surrounded by many [Tatars] and was hit many times on his head and his body."
Read it all here.....................
posted by Major D Swami (Retired) @ 11:48 PM


Communist China cannot be trusted!! - Philippines Shifting Alliances on China?
Philippines is part of the free world and her real friends are America, Australia, Japan, Taiwan, and India.
COMMUNIST Can't be trusted!!
posted by Major D Swami (Retired) @ 11:48 PM


You must be tolerant of our Intolerance - People of Sabah and Sarawak take note
While there was no objection to Islam being the national religion of Malaysia, there should be no State religion in North Borneo, and the provisions relating to Islam in the present Constitution of Malaya should not apply to North Borneo.[8][9]. So the "the Supremacist Orang Malays" are screwing you the indigenous people. They are the "Pendatangs"!!
posted by Major D Swami (Retired) @ 11:44 PM


Pastor David Lynn ATTACKED for baptizing people
This is a little insight to the future, so buckle up it's going to be one Hell of a ride.
In the Democrats's world, Christianity is a criminal offense. The preacher is doing his job. He has done nothing wrong. ""If the world hates you, you know that it hated Me before it hated you. If you were of the world, the world would love its own. Yet because you are not of the world, but I chose you out of the world, therefore the world hates you. Remember the word that I said to you, 'A servant is not greater than his master.'
If they persecuted Me, they will also persecute you. If they kept My word, they will keep yours also." ‭‭John‬ ‭15:18-20‬ ‭NKJV‬‬. These people wonder why normal people don't support them. Well, when you attack normal people just minding their own business most people are not going to want to support you, that's how it works.
This dude is just trying to baptize people who want to be baptized, that sounds pretty normal to me, and as a defender of free speech and an atheist, I stand by him because he did nothing wrong. And it really says something that they are more interested in shutting him down than minding their own business.
"Remember the word that I said to you, 'A servant is not greater than his master.' If they persecuted Me, they will also persecute you." - Jesus
posted by Major D Swami (Retired) @ 11:36 PM


PAS should never be allowed to gain a foothold in Sabah or Sarawak
posted by Major D Swami (Retired) @ 11:35 PM


Council of American Islamic Relations : Muslims Are the Real Victims of 9/11
Jihad Watch : My latest in PJ Media:
The Los Angeles chapter Hamas-linked Council on American-Islamic Relations (CAIR) issued a press release yesterday to announce that it had "sent a letter to school districts and universities throughout the Greater Los Angeles area to encourage educators to promote diversity, inclusivity and mutual understanding when discussing the anniversary of September 11, 2001 ('9/11')." This admonition was needed, you see, because the people CAIR regards as racist, redneck Islamophobes – that is, Americans who are aware of the nature and magnitude of the jihad terror threat – are not teaching about 9/11 "in a nuanced way." They aren't, you see, highlighting the real victims of the 9/11 attacks: Muslims in the U.S.
In the letter, CAIR-LA Civil Rights Managing Attorney Amr Shabaik wrote that since 9/11, "federal, state, and local governments have all tried numerous methods with varying degrees of success to address America's unresolved issues of racial, ethnic, and religious bias in order to reconcile our nation with its foundational values, such as religious freedom, diversity, and serving the world as a country of financial opportunity and political refuge."
The implication is clear: America's alleged racial, ethnic, and religious biases caused 9/11. Once those biases are addressed, the nation can assume its responsibilities of "serving the world as a country of financial opportunity and political refuge." But we aren't there yet. Shabaik writes that "many attempts also have been made by school administrators, district boards, and other nonprofit organizations to address and improve our nation's loss of purpose and degrading culture. Unfortunately, despite their good intentions, some educators may be unaware of the biases that they impart upon their students."
Those biases primarily involve conflating "the entire religion of Islam with the tragic events of 9/11." Never mind that the 9/11 hijackers and plotters repeatedly conflated their actions with the religion of Islam. Khalid Shaikh Mohammed and the other 9/11 plotters several years ago penned a lengthy Islamic defense for their actions, which included a closely reasoned explanation of why the 9/11 attacks were justified from the standpoint of Islamic doctrine and belief But to notice that, says CAIR, would reveal "bias." There is much more.
Read the rest here.
posted by Major D Swami (Retired) @ 11:29 PM


Indira Gandhi's child - this is not how you treat a kidnapped citizen - Commander S THAYAPARAN (Retired) Royal Malaysian Navy
Indira Gandhi
Malaysiakini : "The communication with Muhammad Riduan Abdullah had been very positive, but when there were negative reports and comments, he backed off." – Inspector-General of Police Abdul Hamid Bador
COMMENT

| The M Indira Gandhi case is the best example of how the system has failed non-Muslims. The narrative of the state is so ingrained that many people do not view this as a religious kidnapping but rather a domestic spat between a husband and wife. Indeed, I have heard journalists refer to it as such. If the police were a functional institution, the sensitivities felt by the kidnapper to the bad press he received would not be an issue. Here we have the state security apparatus attempting to negotiate with a kidnapper who apparently gets upset by bad press. Does anyone else find this laughable?
Inspector-General of Police (IGP) Abdul Hamid Bador refers to "constraints" in bringing the kidnapper back. Now, normally, I would understand if the state needed to be conservative with the flow of information. But after nearly a decade of mismanagement, mala fide intentions and plain incompetence, I believe that Indira and the section of the polity which believes that this is an important issue, deserve full disclosure. What are these constraints? What is hampering the police from working with local enforcement agencies from bringing the kidnapper back? If he is in another country, have the police and other enforcement agencies been communicating with the relevant authorities where the kidnapper is? Have they collaborated on how to best bring back the kidnapped child to her mother?
Read it all here............
posted by Major D Swami (Retired) @ 10:29 PM


The Communist Chinese Party Forces Allies to Choose Sides
Secretary Pompeo: I know that there's fear in Europe that the United States wants you to choose between us and China. That's simply not the case. It's the Chinese Communist Party that's forcing the choice.
posted by Major D Swami (Retired) @ 10:56 AM


ARCHIVES
Previous Post
Links To Rangers
Military Related Links
Q&A Battle of Mogadishu
Black Hawk Down
Ranger Awang Rawang -
George Cross
Combat Art
Malaysian Military
Military Dictionary
Infantry Magazine
4th Inf Div Mech
Okinawa Marine Page
Stabilisation Force
Quadrant Magazine
History Malaya
The War Against,
Indonesia
Lest We forget
Malayan Emergency
Collection
Australian Army News
Wars of Vietnam
RAAF School In M'sia
Brits In S'pore and Malaya
S'pore-Malaysia Relations
Allied Participation In
The Vietnam War-,
Malaysia Included
Short Military Fiction
Singapore
Aussies At War
Combat In The Jungle
History Of The
British Army
Remembering
The Gurkhas
In Malaya
Royal Navy
Combat Tracker Team
Sixties Timeline
Institue of Defence and
Strategic Studies
Singapore Window
Singapore Armed Forces
Website
Panzer Divisions WW2
Basics Of Warfare
Violence In The Congo
Malaysia & United Nations
West Point
Military Academy
RMA Sandhurst
OCS Portsea
RMC Duntroon
NZ Forces
Military Colleges
Indonesian Military
& Democracy
Indonesia At
The Crossroads
World War 1 Document
Archive
Explore World War 1
Explore World War 2
World War 2 Net
World War 2 In Europe
Book References-
Insurgency Malaya
Malayan Emergency
Collection
Lessons From Malaya
Malaya,1948:Britain's
"Asian Cold War"
NZ Forces In Borneo
Malayan Emergency-
Australian Pespective
Malaya, My Far East
Slim School
Cameron Highlands
The Undeclared War
(Indonesian Confrontation)
-Book Review
The Queen's Gurkha
Signals
During
Confrontation
Brief History 4th RAR
In Malaya & Borneo
Aussies At War
Against Indonesia
Conflict and Confrontation
in SEA,
1961-1965,Britain,
US and the creation of Malaysia
D-Day(Operation
Overlord)
OMAHA Beachhead
-Historical
Division War
Department
Vietnam Resources
For The Historian
The Royal Irish Rangers
Queen's York Rangers
Early Ranger History
75th Ranger Regiment
Roots of Honor
-Histories
of the 14th U.S. Infantry
US Army Homepage
Under fire images
from Vietnam
Vietnam,
Death & Home
Photos, Articles,
and Research
on the European
Theater
in World War II
Complete Articles
On Middle East Conflict
The Israeli War
Of Independence
IDF Israel
Middle East And
Jewish Studies
The Quest For Peace
In The Middle East
US Coast Guard History
Memories Of Combat
Women In Combat
Korean War
Combat Photos
Photographing
Under Fire
Under Fire
US Army
Public Affairs
Military Equipment
Guide
The History Net
Canon, Machine Guns
And Ammunition
HK Assault rifles
AK Assault Rifle
Homepage
Modern Firearms
Main Battle Tanks
Former USSR
M1A1 / M1A2 Abrams Main
Battle Tank
, USA
Main Battle Tank:
Challenger 2
Leopard 2A6
Leclerc Main
Battle Tank
Israeli Main
Battle Tank
Swedish Armor
Infantry Fighting
Vehicle-Bradley
Italian IFV
French IFV
British IFV
Definition IFV
Scandinavian Armor
XXXX

xxxx
xxxx
XXX
XXXX
World
xxxx
Advertistment
Advertistment
XXXXXXXX
Advertistment
XXXXXXXX
Advertistment
XXXXXXXX
Advertistment
XXXXXXXX
Advertistment
XXXXXXXX
Advertistment
XXXXXXXX
Advertistment
xxxx
Advertistment
xxxx
Advertistment
xxxx
Advertistment
xxxx
Advertistment
xxxx
Advertistment
xxxx
Advertistment
xxxx
Advertistment
xxxx
Advertistment
xxxx
Advertistment
xxxx
Advertistment
xxxx
Advertistment
xxxx
Advertistment
xxxx
Advertistment
xxxx
Advertistment
xxxx
Advertistment
xxxx
Advertistment
xxxx
Advertistment
xxxx
Advertistment
XXXXXXXX
Advertistment
XXXXXXXX
Powered by