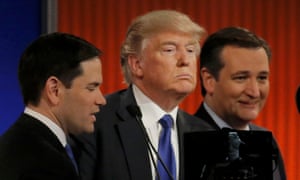 This is the game we play after every Republican debate: the mainstream press corps finds some tortured explanation for why Marco Rubio or Ted Cruz won, and then days later Donald Trump rises in the polls.
In a night where CNN ran a headline reading "Donald Trump defends size of his penis," the man has probably won yet again. Any doubt of Trump's tenacity was dispelled by the live crowd at the Conservative Political Action Conference, a ballroom full of establishment Republicans watching the combat on giant projection screens, and laughing with He Of The Dyson Airbladed Hair in spite of themselves.
The media has only lately come round to the notion that perhaps its political geiger counter is no longer detecting radiation but screaming a New York tune like Lou Reed's Metal Machine Music. But the revolutionary act of admitting that you can be wrong does not get you all the way to being right. And it will be incredibly tempting for the same wisdom to hand this night to Cruz or Rubio.
Both candidates battered Trump repeatedly and well, according to the conventional political rules of debates. They even tag-teamed Trump on a couple lines. But the old logic has failed us. We are not the same political people anymore, no longer bounded to conventional metaphysics. Maybe it is no longer possible to die.
Read it all here.................