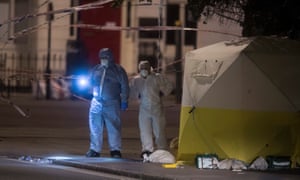 Don't you wish Donald Trump was the PM of the not so 'great' britain?
A knife attack has left one woman dead and five injured in central London as police investigated whether mental illness or terrorism had motivated a suspect held at the scene.
Officers fired an electric stun gun as they arrested the 19-year-old man after being called to the incident in Russell Square near the British Museum just after 10.30pm on Wednesday.
The suspect was taken to hospital where he was being held in custody. Police said mental health seemed to be a "significant" factor in the incident. But Scotland Yard said that for "reassurance and safety", Londoners would see extra officers, including armed police, deployed on the city's streets on Thursday morning.
The incident in the popular tourist area came amid warnings about the near inevitability that the United Kingdom would suffer a terrorist attack, after months of jihadi strikes across Europe and the Middle East.
Read it all here...............................