Fighting Seventh
Nuffnang
Miscellaneous
No Atheists
In A Foxhole
Local Socio
Political Bloggers
Sites of Interest
Glorious
Malaysian Food
Foreign Bloggers
&
Other Stuff
Gaming
Warriors
Warrior
Warrior
Brother
Buddy
Tracker
A Cry
Assault
Boots
Sarawak Rangers
Soldier
Combat
Infantry
Brothers
Advertistment
Advertistment
Advertistment
Advertistment
Advertistment
Advertistment
Advertistment
Advertistment
Complaint Made To Twitter About Glazov's Tweet About Sri Lanka Jihad
Saturday, April 27, 2019
Jihad Watch : On Tuesday, April 23, Twitter notified me that it had received a complaint about my tweet on April 21st about the world's response to the Sri Lanka Jihad Massacre. I wrote about my confusion about the discrepancy in the international community's reaction to the Sri Lanka Jihad in comparison to how it had reacted to the shootings on mosques in Christchurch, New Zealand. I wrote:

With this tragic Sri Lanka Jihad Massacre having been perpetrated, I am bewildered: Where are all Muslim leaders, and all leaders, wearing the Cross and saying the "Our Father" and "Hail Mary" aloud in public? Or it's only when Islam is a target that everyone dons the Hijab?
Twitter soon informed me that a complaint had been made about my tweet: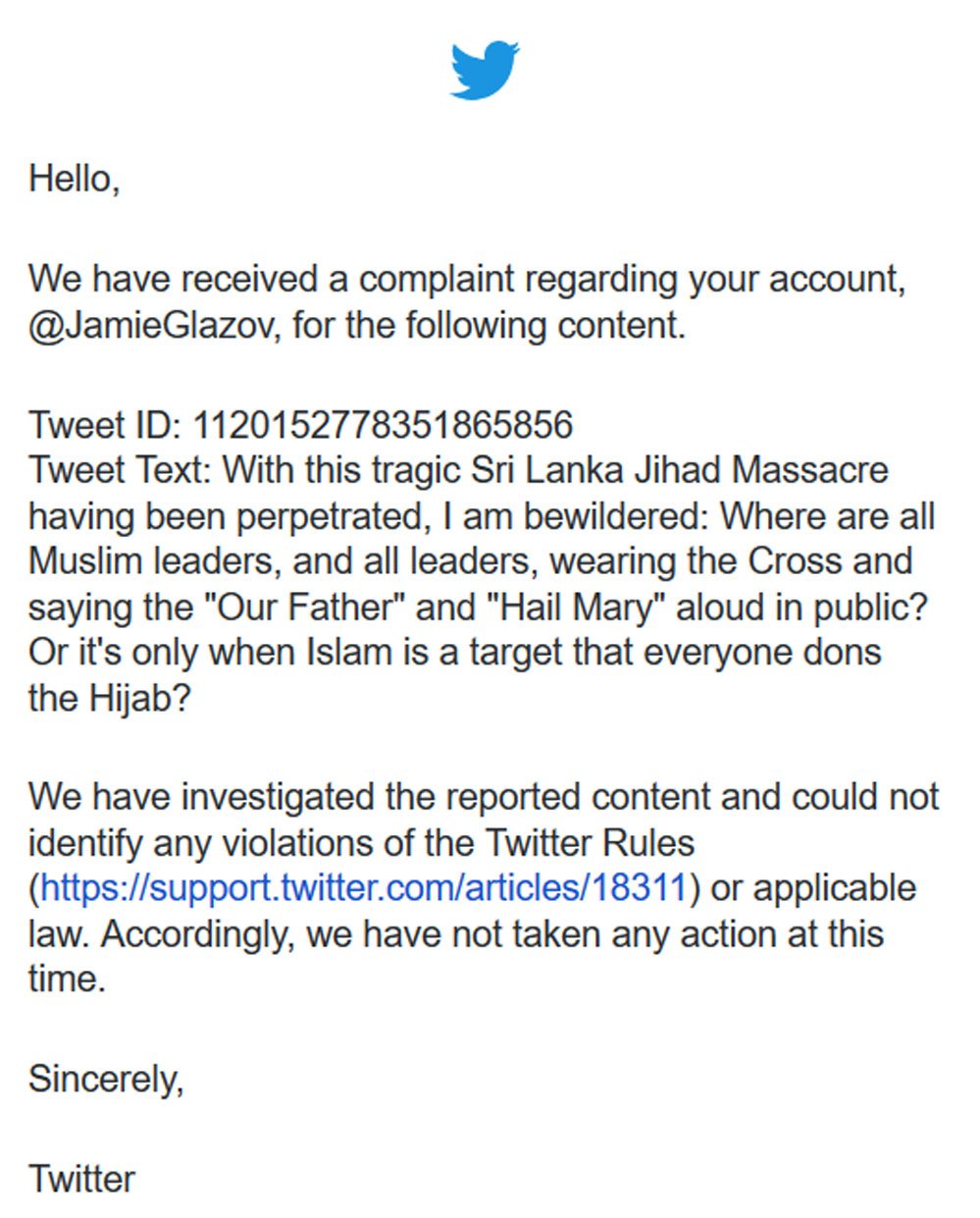 It is commendable that Twitter, this time, took my side — as opposed to an earlier occasion where it had suspended me for my apparent "violation" of "Twitter Rules" by my referencing of several Islamic religious texts. And in another bizarre and Kafkaesque episode, Twitter warned me that my new book, Jihadist Psychopath, violated Pakistan's Blasphemy Law. Why Twitter is faithfully doing Pakistan's Sharia bidding remains an issue many are waiting for Twitter to explain.
In any case, in this new development, the question remains: What is the complaint against my tweet exactly based on? Is there something wrong with pointing out that many leaders and members of the international community were donning the Hijab after the Christchurch mosque shootings? It is simply a fact that they were.
And so, what exactly is wrong with wondering where all the leaders and people are (Muslim and non-Muslim alike) who are verbalizing the "Our Father" and "Hail Mary" aloud in public — as an expression of solidarity with Christians after the Sri Lanka Jihad Massacre? What exactly is wrong with asking this question?
Read it all here......................
posted by Major D Swami (Retired) @ 9:45 PM


ARCHIVES
Previous Post
Links
Links To Rangers
Military Related Links
Q&A Battle of Mogadishu
Black Hawk Down
Ranger Awang Rawang -
George Cross
Combat Art
Malaysian Military
Military Dictionary
Infantry Magazine
4th Inf Div Mech
Okinawa Marine Page
Stabilisation Force
Quadrant Magazine
History Malaya
The War Against,
Indonesia
Lest We forget
Malayan Emergency
Collection
Australian Army News
Wars of Vietnam
RAAF School In M'sia
Brits In S'pore and Malaya
S'pore-Malaysia Relations
Allied Participation In
The Vietnam War-,
Malaysia Included
Short Military Fiction
Singapore
Aussies At War
Combat In The Jungle
History Of The
British Army
Remembering
The Gurkhas
In Malaya
Royal Navy
Combat Tracker Team
Sixties Timeline
Institue of Defence and
Strategic Studies
Singapore Window
Singapore Armed Forces
Website
Panzer Divisions WW2
Basics Of Warfare
Violence In The Congo
Malaysia & United Nations
West Point
Military Academy
RMA Sandhurst
OCS Portsea
RMC Duntroon
NZ Forces
Military Colleges
Indonesian Military
& Democracy
Indonesia At
The Crossroads
World War 1 Document
Archive
Explore World War 1
Explore World War 2
World War 2 Net
World War 2 In Europe
Book References-
Insurgency Malaya
Malayan Emergency
Collection
Lessons From Malaya
Malaya,1948:Britain's
"Asian Cold War"
NZ Forces In Borneo
Malayan Emergency-
Australian Pespective
Malaya, My Far East
Slim School
Cameron Highlands
The Undeclared War
(Indonesian Confrontation)
-Book Review
The Queen's Gurkha
Signals
During
Confrontation
Brief History 4th RAR
In Malaya & Borneo
Aussies At War
Against Indonesia
Conflict and Confrontation
in SEA,
1961-1965,Britain,
US and the creation of Malaysia
D-Day(Operation
Overlord)
OMAHA Beachhead
-Historical
Division War
Department
Vietnam Resources
For The Historian
The Royal Irish Rangers
Queen's York Rangers
Early Ranger History
75th Ranger Regiment
Roots of Honor
-Histories
of the 14th U.S. Infantry
US Army Homepage
Under fire images
from Vietnam
Vietnam,
Death & Home
Photos, Articles,
and Research
on the European
Theater
in World War II
Complete Articles
On Middle East Conflict
The Israeli War
Of Independence
IDF Israel
Middle East And
Jewish Studies
The Quest For Peace
In The Middle East
US Coast Guard History
Memories Of Combat
Women In Combat
Korean War
Combat Photos
Photographing
Under Fire
Under Fire
US Army
Public Affairs
Military Equipment
Guide
The History Net
Canon, Machine Guns
And Ammunition
HK Assault rifles
AK Assault Rifle
Homepage
Modern Firearms
Main Battle Tanks
Former USSR
M1A1 / M1A2 Abrams Main
Battle Tank
, USA
Main Battle Tank:
Challenger 2
Leopard 2A6
Leclerc Main
Battle Tank
Israeli Main
Battle Tank
Swedish Armor
Infantry Fighting
Vehicle-Bradley
Italian IFV
French IFV
British IFV
Definition IFV
Scandinavian Armor
The Word

>
Training
Kanang ak Langkau
SP PGB
Salute
Soldier's Prayer
Prayer
In Loving
Memory
Confrontation
Iban
Warrior
Prayer
Christ
My Lord
Dayak Warrior
Iban Tracker
With British
Iban Tracker
Kukri
M4A2/M203
Signaller
Sword
Arrowed
Any Weapon
Major Disaster
National
Monument
XXXX
World
XXXX
World
XXXX
World
XXXX
World
XXXX
World
XXXX
World
XXXX
World
XXXX
World
XXXX
World
XXXX
World
XXXX
World
XXXX
World
XXXX
World
Advertistment
Advertistment
Advertistment
Advertistment
Advertistment
XXXXXXXX
Advertistment
XXXXXXXX
Advertistment
XXXXXXXX
Advertistment
XXXXXXXX
Advertistment
XXXXXXXX
Advertistment
XXXXXXXX
Advertistment
XXXXXXXX
Advertistment
XXXXXXXX
Advertistment
XXXXXXXX
Advertistment
XXXXXXXX
Advertistment
XXXXXXXX
Advertistment
XXXXXXXX
Advertistment
XXXXXXXX
Advertistment
XXXXXXXX
Advertistment
XXXXXXXX
Advertistment
XXXXXXXX
Advertistment
XXXXXXXX
Advertistment
XXXXXXXX
Advertistment
XXXXXXXX
Advertistment
XXXXXXXX
Advertistment
XXXXXXXX
Advertistment
XXXXXXXX
Advertistment
XXXXXXXX
Advertistment
XXXXXXXX
Advertistment
Advertistment
Advertistment
Advertistment
Powered by