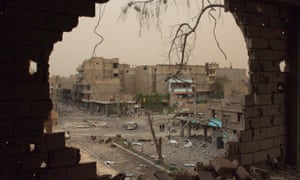 Mohammad Bashir al-Aani and son had been captured after family funeral and held for several months accused of apostasy.
Islamic State has killed a Syrian poet and his adult son, whom they captured after a funeral and accused of apostasy, rights groups said. Mohammad Bashir al-Aani had published three volumes of poems and was known for his lyrical style and opposition to the government of President Bashar al-Assad, the writers' group PEN International said.
The poet, who was in his mid-fifties, and his son were seized by Isis fighters several months ago in their home town of Deir ez-Zor, where they had returned to bury Aani's wife after she died in a Damascus hospital. They were held with around 100 others before being killed, local media and rights groups reported.
"We are shocked and deeply saddened by reports that Mohammad Bashir al-Aani and his son Elyas were murdered by the militant group Islamic State which had accused them of 'apostasy'," said Salil Tripathi, the chair of PEN International's writers in prison committee. Read it all here.................
HT : RoP